A gold medal in the prestigious World Cup Final eluded Deepika Kumari once again as she settled for her third successive silver after being pipped by Korean Olympic champion Ok-Hee Yun, in Paris on Sunday.
The 19-year-old started wonderfully with three perfect 10s and led 3-1 but a shocking time lapse in the third set enabled the Korean rally past the Indian for a 6-4 win in the showpiece annual fixture held after four stages of World Cup.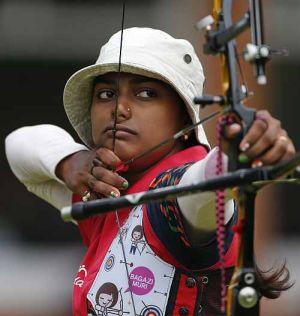 After a superb first set, Deepika shot two 9s and one 10 to tie the second.
Leading 3-1, Deepika had the gold medal on sight as she began with 10-9 in the third set but while coming for the third arrow she did not have enough time to shoot to draw a blank as the Korean levelled 3-3.
Shattered, Deepika shot a poor 8 to concede the fourth set as the Korean led 5-3.
Yun needed a tie in the fifth set to deny Deepika her maiden World Cup Final gold and the Korean held her nerves to hold the Indian 29-29 to clinch her second yellow metal in the event.
This was the 2008 Olympic champion's second gold in the World Cup Final after 2010, while for Deepika, it was her second loss to Yun as the Indian once again could not overcome the Korean jinx.
In the final of the Shanghai World Cup in May, a judging error by the Ranchi girl had led to a shock loss while in Wroclaw stage last month the 2008 Olympic champion had won with flying colours.
Dola Banerjee is the only Indian to have won a gold in the showpiece event.
This was Deepika's fourth successive World Cup Final appearance. After ranking fifth in 2010, Deepika clinched silver medals in both 2011 and 2012.
Earlier Deepika registered a come-from-behind victory over Olympic silver medalist Ajejandra Valencia.
The 19-year-old Indian overcame a two-set deficit to oust Valencia.
According to sources, Deepika shot a 9 closer to the centre to edge past the Mexican in the shoot-off to make the summit clash.
In the pulsating semi-final, Deepika, down 0-4, made a stunning comeback and shot three perfect 10s to tie 5-5 and take the match to the shoot-off.
Deepika had faced the same opponent in the quarters of the 2011 World Cup Final where the Ranchi girl had won 6-4.
Image: Deepika Kumari