Malaysia's Nicol Ann David is the world's top squash player and surely knows what it takes to reach the top.
"There are many aspects to the game of squash. Nothing comes easy. You need to have the urge to want the top spot. I make it a point to work hard and put in more effort," said women's world No 1 in Delhi, ahead of the October 3-14 Commonwealth Games.
"All these years that I have been playing, I have never felt like leaving this game ever. My hunger for the sport kept increasing. I will always try to keep the No 1 position. It's just that the intensity keeps growing. The need to take my game, one level higher keeps me going," she said.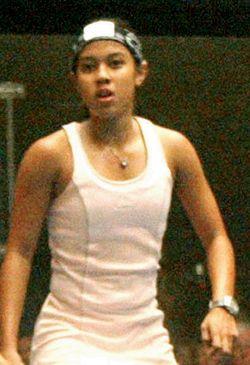 "The sport is growing in the Asian countries, especially in Malaysia. Inclusion of squash in Commonwealth Games has given a boost to the sport in Malaysia. There is also a junior development programme running there, in which there are strong academies and schools which have included squash in their sports," she added.
She also observed that Indian squash had grown in the last few years.
"Indian squash has grown leaps and bounds in the past many years. Asia is coming up in the rankings, and so is India. This is good for the sport."
She expressed confidence that Malaysian squash players will do well in the Delhi Games.
"We have been practicing for the past two days. We have a very good training base. I think the team is ready for the Games. My preparation for the Games has been very good. I have been training at Amsterdam under the supervision of my coach, Liz Irving, who is one of the best squash coaches in the world," Nicol added.
And like many other foreign athletes, Nicol also gave the thumbs up to the Commonwealth Games Village.
"The training venue and facilities are excellent. It is one of the top-class glass courts in the world. The Village is very good with great facilities, dining areas and security arrangements. Everything is ready here and all the athletes are feeling settled now.
Photograph: Reuters