Albert Costa has stepped down as captain of Spain's Davis Cup team and moved into a new role as overseer of all the country's national teams, the Spanish tennis federation said on Thursday.
Costa, a former French Open singles champion, led Spain to two Davis Cup titles in his three years at the helm, the second coming against Argentina in Seville two weeks ago.
"For the RFET it is a great satisfaction that we can continue working with a person with his great sporting experience," federation president Jose Luis Escanuela said in a statement.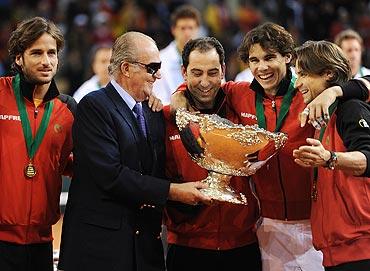 "It is great news for Spanish tennis to know that Costa, after three exceptional years in the Davis Cup, is from now co-ordinating and working on the strategies of our men's and women's national teams."
Costa, 36, will head up a new structure overseeing the captains of the Davis Cup, Federation Cup and 2012 Olympic teams and act as an assessor in other areas of Spanish professional tennis, the federation said.
"I am proud to have the confidence of the RFET in this new stage of my professional links with the organisation that runs Spanish tennis," Costa said.
"After three fantastic years at the head of the Davis Cup team I take up this new challenge with enthusiasm, knowing that to face up to our future objectives we have an enormous tennis potential due to the quality of the sportspeople and coaches we have."
One of his first challenges will be to find his replacement as captain of the Davis Cup team for 2012, with Alex Corretja and Carlos Moya being linked to the position.
The five-times champions will be deprived of the World No. 2 Rafa Nadal next year, who has already ruled himself out to focus his attentions on the 2012 Olympic Games in London.