Together with goalkeeper Edwin van der Sar, PSV Eindhoven midfielder Philip Cocu is the most experienced player in the Dutch World Cup squad.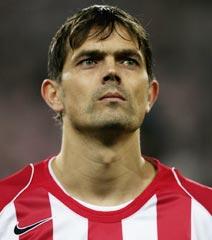 Throughout his long professional career, which started at AZ Alkmaar 16 years ago and has included spells at Vitesse Arnhem, PSV Eindhoven and Barcelona, Cocu has provided the necessary hidden power, or magic ingredient, in almost every team he has played for.
Because of his slight physical strength Cocu proved a late bloomer, making his debut for the Netherlands when he was 26 years old, six weeks before the European Championship finals in England in 1996.
Cocu became a regular choice under then national coach Guus Hiddink and will be taking part in his fifth, and final, major tournament in an orange shirt. He is retiring from the international team after the tournament.
Cocu is a versatile, left-footed midfielder, who can handle a defensive role as well as an attacking one.
He joined PSV for the first time in 1995 and left after three seasons and one title, moving to Barcelona for a six-year spell.
After the 2004 European Championship in Portugal, where he experienced his third consecutive semi-final exit with the Dutch team, he returned to his home-town club.
Along with coach Hiddink, Cocu is considered the architect behind PSV's successes over the last two seasons.
n 2004-05 he formed a powerful midfield trio with Mark van Bommel and Johann Vogel and guided PSV to the Dutch Cup and League double, while their Champions League adventure ended on the away goal rule against AC Milan in the semi-final.
Surrounded by a handful of new midfielders, the 35-year-old again has had an impressive season with PSV retaining their title with relative ease.
Now all that remains to be achieved is improving his tally of caps from 95 to 100 or more. He would become the third Dutchman to do that after Frank de Boer and Edwin van der Sar.
Of course, that would just be the aperitif before the main prize if the Dutch do as well in the finals as some believe they can.
Despite all his successes at club level, the World Cup represents his last chance of winning an international trophy. In his silverware collection, a major international honour is still missing.