The professional tennis career of Kim Clijsters officially ended on Saturday when the Belgian lost in the second round of the mixed doubles event at the U.S. Open.
The four-times Grand Slam winner, partnered by American Bob Bryan, lost to Russian Ekaterina Makarova and Brazilian Bruno Soares, losing 6-2, 3-6 (12-10).
Clijsters had announced she was retiring after the U.S. Open to focus on her family and had already lost in singles and women's doubles.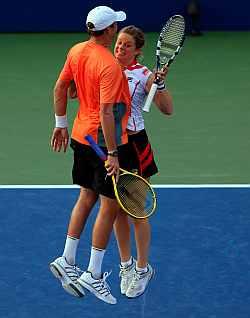 The three-times U.S. Open singles champion said she would like to be remembered for always giving 100 percent effort.
"I always tried to give my best," she told reporters in her post-match news conference.
"Even from when I was eight years old until this last match, I always tried to give my best in everything that I did, whether it was sitting here or on the practice court."
The 29-year-old said she had remained focused for the doubles and mixed doubles even though it "was a lot more relaxed obviously than my singles".
Clijsters said she has no regrets about putting her racket down.
"When I was in the shower, I was like, 'whew,' like a big release. It feels right."
Photograph: Chris Trotman/Getty Images for USTA