Badminton powerhouse China resumed normal service on Sunday by thrashing Indonesia 3-0 to retain the Thomas Cup and erase the disappointment of their women's shock final loss to South Korea in the Uber Cup.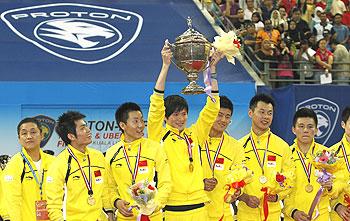 Olympic and world champion Lin Dan ensured there would be no repeat of the women's stumble on Saturday by destroying fierce rival Taufik Hidayat 21-7, 21-14 in less than an hour.
Doubles pair Cai Yun and Fu Haifeng encountered more resistance against Markis Kido and Hendra Setiawan, but romped home in the third set to put China 2-0 up with a 25-23, 16-21, 21-12.
Chen Jin then made it a clean sweep by coming back to beat Simon Santoso 19-21, 21-17, 21-7.
"It was a perfect victory as those only appear in the textbook," China coach Li Yongbo told Xinhua news agency.
"There is a comment saying the 'Great Wall' was toppled in our loss of the Uber Cup, then today I would say we made it stand up again."
Lin, whose semi-final demolition of Malaysia's Lee Chong Wei paved the way for China's fourth consecutive title, was ecstatic with his return to form after a shock quarter-final loss at the All-England Championships in March.
"It is the best performance I have had since the beginning of 2010," he said.
"I am very happy that such strong rivals as Lee Chong Wei and Taufik here inspired me to find my way back."