Giant-killer Yuki Bhambri rallied from two match-points down in the second set to score a thrilling 2-6, 7-5, 6-3 victory over No 7 Roko Karanusic of Croatia in the final of the CCI-ITF US$15,000 Men's Futures tennis tournament at the Cricket Club of India, in Mumbai, on Saturday.
Placed at 491 in the ATP rankings, the sixth seeded Bhambri snatched one of the most exciting come-from-behind wins to earn US$19,500 and 27 ATP points, while the 483-ranked Karanusic earned US$13,500 and 15 points.
Former world No 88 Davis Cupper Karanusic had the title in his grasp after earning two breaks in the opening set and three in the second as he led 5-4 and 40-15 while serving for the match.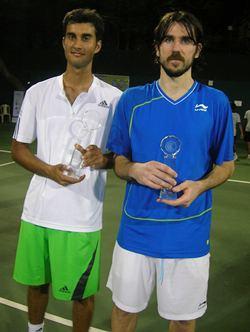 But 18-year-old Indian, who earned four breaks in the second set, including the decisive one in the 10th game, changed the script with a stunning comeback in an absorbing contest that lasted an hour and 45 minutes.
"I felt down and out long before staring at certain defeat. But I was fortunate with that winner on the net chord on a volley that gave me that break in the 10th game. I played simple tennis and I'm glad to win the first ITF Futures of the season in India after last winning in Kolkatta in 2009," said Bhambri.
Inspired by his effort in the second set, Bhambri dumped the earlier blemishes into oblivion and snatched a crucial break in the fourth game of the third and final set to race to victory.
"Sometimes it happens in tennis," reasoned Karanusic, who has famous wins over David Nalbandian, Andy Roddick and Somdev Devvarman to his credit.
"After struggling in the beginning, Yuki suddenly started playing well. That upset me completely."
The second seed Indian pair of Purav Raja and Divij Sharan upset top seeds Gero Kretschmer and Alexander Satschko of Germany 7-6 (7-4), 7-6 (7-5) in an equally riveting contest to claim the doubles title.
The second leg of the ITF US$15,000 Futures tournament will be held at the South Club, Kolkatta.
Results (Final): 6-Yuki Bhambri (India) bt 7-Roko Karanustic (Croatia) 2-6, 7-5, 6-3.
Doubles: 2-Purav Raja/Divij Sharan (India) bt 1-Gero Kretschmer/Alexander Satschko (Ger) 7-6 (7-4), 7-6 (7-5).