Britain's Jenson Button set the fastest time in a dramatic final qualifying session on Saturday to claim pole position for the Australian Formula One Grand Prix.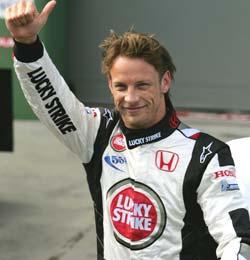 Button lapped Melbourne's Albert Park circuit in one minute, 25.229 seconds to capture his third career pole and Honda's first in 38 years.
Italian Giancarlo Fisichella, last year's winner, clocked the second best time to join Button on the front row of the grid, just ahead of his Renault team mate, Spanish world champion Fernando Alonso.
Kimi Raikkonen and his McLaren team mate Juan Pablo Montoya were fourth and fifth while seven-times world champion Michael Schumacher had to settle for 11th in his Ferrari.
"I'm still shaking with the excitement," Button told a news conference.
"This is a great feeling, to be on pole position, but we know how competitive the rest are and...tomorrow is the important day for us."
Button timed his run to perfection, rocketing to the top of the timesheets when he finally found a clear road in front of him to complete his flying lap with just minutes to go in the last session.
The first two qualifying sessions, in which the slowest 12 cars were eliminated, were both interrupted by accidents while the remaining 10 drivers were forced to take it easy at the start of the last session when light rain began to fall.
"It was a very hectic session, it was mad for us," Button said.
"Trying to get a lap time in was very difficult but we managed it."
LOST CONTROL
The first session was stopped when Yudi Ide of Japan spun his Honda and stalled on the track. Ide was one of six drivers eliminated from the first session, including Button's team mate Rubens Barrichello.
Both Ferrari's were eliminated in the second session, which was also halted when Felipe Massa lost control and slammed into a wall, ripping one of the rear tyres off.
German Schumacher started from pole in the season-opening race in Bahrain but failed to even make the top-10 shootout in Melbourne after running over his own cooling fan when he left the team garage.
"The main problem today is that we were just too slow," Schumacher said.
Alonso won in Bahrain after qualifying fourth fastest and said he was confident of another strong showing after booking a place on the second row of the grid.
"This is my best qualifying for the year so I'm happy with that," he said.
"I lost about half a second when I got caught in traffic so considering that it was very good.
"In race conditions, I am confident we will be extremely competitive."
Fisichella was also in a buoyant mood after following up his victory in Malaysia last month to join Button on the front row.
"I'm very pleased to be second for the race considering I made a few mistakes on my quickest lap," he said.
Although all 22 cars were ranked in order after Saturday's three-stage qualifying session, the final grid positions won't be determined until a few hours before Sunday's race as teams can elect to drop back 10 places if they want to change engines.
Starting grid for Sunday's race:
1 Jenson Button Honda
2 Giancarlo Fisichella Renault
3 Fernando Alonso Renault
4 Kimi Räikkönen McLaren-Mercedes
5 Juan Pablo Montoya McLaren-Mercedes
6 Ralf Schumacher Toyota  1:28.007
7 Mark Webber Williams-Cosworth
8 Nick Heidfeld Sauber-BMW
9 Jacques Villeneuve Sauber-BMW
10 Jarno Trulli Toyota
11 Michael Schumacher Ferrari
12 David Coulthard RBR-Ferrari
13 Vitantonio Liuzzi STR-Cosworth
14 Christian Klien RBR-Ferrari
15 Nico Rosberg Williams-Cosworth
16 Felipe Massa Ferrari
17 Rubens Barrichello Honda
18 Christijan Albers MF1-Toyota
19 Scott Speed STR-Cosworth
20 Tiago Monteiro MF1-Toyota
21 Takuma Sato Super Aguri-Honda
22 Yuji Ide Super Aguri-Honda