Flavio Briatore has always done Formula One his way.
Nightclub owner, escort of some of the world's most beautiful women and a title-winning team boss who went from the Benetton fashion empire to signing up the young Michael Schumacher, the perma-tanned Italian is again riding the crest of a wave with Renault.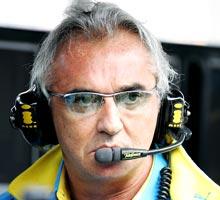 While some believe this will be his valedictory year, a farewell from a man who has made headlines since the day he arrived at the Benetton team in 1988 as "a T-shirt seller", Briatore says he is thinking only of the job in hand.
Renault have turned the tables on Ferrari and head to Bahrain this week leading both championships after two wins in two races.
A survivor in Formula One's world of 'Piranha Club' politics and friend of commercial supremo Bernie Ecclestone, "Flav" says his future can wait. He is having fun and wants to finish a job he started in 2000.
"The moment I don't have fun, I stop," he told Reuters in an interview.
"Me, I have only one life. I think a lot of people think they have three or four. But really I believe I have only one. I don't want to be wasting my time.
"Laughing is very important, a good time is very important, work is very important, the result is very important.
"I try to do everything at the same time.
"For the moment I am very concentrated on making sure the team have everything they need to win," added the Italian.
"From now to the end of the season there is plenty of time to think about what we do. Personally I am very happy for the position the team has, the respect the team starts to get from their competitors."
BIG MISTAKE
When Renault looked to Briatore after buying Benetton, the team he had left in 1997 after one constructors' title and Schumacher's drivers' crowns in 1994 and 1995, some felt it would end in tears.
There have been regular predictions of Renault's imminent decline since then, particularly after the departure of key figures such as Mike Gascoyne, now technical director at Toyota, and aerodynamicist John Iley, who moved to Ferrari.
Some questioned Briatore's wisdom in 2003 of opting for reduced testing in exchange for being allowed to run a third car in Friday practice, a move that none of the top teams followed.
Yet it paid off and every year the team have taken the changes in their stride and moved up a step.
"The beginning of the end was the moment I arrived at Renault," grinned Briatore. "Every year with us is the beginning
of the end. I don't understand why."
The Italian, with his celebrity lifestyle, would be first to admit that he does not have petrol flowing through his veins. He has said before that from the outside Formula One is "just cars racing on a Sunday and grid girls".
What he does have, as well as his luxury yacht and estate in Kenya, is commercial acumen and an ability to manage people.
In a career that has seen him own Ligier and Minardi as well as selling engines to others, he has been smart enough to sign up promising young drivers such as Spain's Fernando Alonso, the winner in Malaysia.
At Renault, he has set out his stall and delivered.
"First was to be in the first six, after that in the first four, then the first three and now fighting for second or first place," said Briatore. "This year we are competitive. It looks like we are competitive in any condition.
"We are arriving in every situation and the balance of the car is okay, the drivers are happy and the [lap] time is there. This is really important because in the winter everybody is a champion."
NEW FACES
Like Frank Sinatra, Briatore can say he has done it his way.
When he arrived at Benetton, after being in charge of the Italian clothing company in North America, he brought new faces.
The heart of modern Ferrari -- technical director Ross Brawn, designer Rory Byrne and eventually Schumacher -- all made their names with Benetton.
"We created a team," said Briatore. "At the time nobody believed Benetton would one day win a race, forget the championship.
"I remember in Monza [in 1991] when I took Michael Schumacher, I was criticised by everybody because I fired [Brazilian Roberto] Moreno and it was a big drama. Even Ayrton [Senna] was complaining about that.
"Me, I only do Formula One this way. This is my way of doing it and everybody has a different style."
"Sometimes when you are coming from outside you see everything much more clearly than the people in the same place for many years."
Renault are not awash with cash. Not that Briatore, who has strong views about the need to cut costs and improve the show, is complaining.
"I don't need a team of 1,000 people to win a race," he said. "I think it is possible to do it with much less than that.
"We should spend much less, entertain more and make Formula One low cost for the manufacturers.
"Formula One is a lot of talk about drama all the time, about finance. But Formula One is a sport. It should be on the back page and not the drama page or the financial pages."