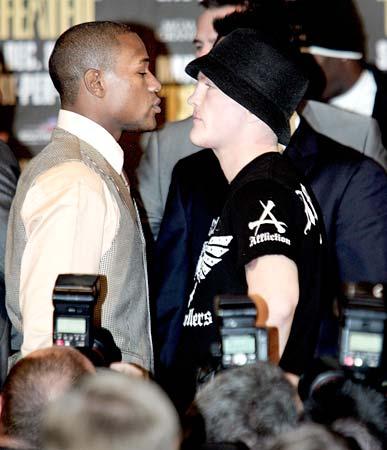 Ricky Hatton said Saturday's fight with World Boxing Council (WBC) welterweight champion Floyd Mayweather Jr. was potentially the most significant bout contested by a British boxer.
"It's the biggest fight Britain has ever been involved in, if I win," he told reporters on Thursday.
"We've had a lot of world champions but maybe not too many that could say they were the best fighter pound-for-pound in boxing at the time. So it's absolutely massive."
Mayweather, who has a 38-0 win-loss record, is widely regarded as the best pound-for-pound fighter in the world.
Hatton, however, believes his high-tempo pressing style is ideally suited to defeat the American.
"Me forcing it is going to enable me to win," he said. "Deny him the time and space to go through his bag of tricks. He's got so much up his sleeve."
Mayweather laughed off the suggestion Hatton's pressing could prove decisive.
"They all say that, right?," said the champion. "They all say they're going to bring pressure.
"I'll tell you all afterwards. This guy has a big weakness."
Mayweather said he had seen "signs of nervousness" in Hatton leading up to the bout.
FIRED UP
The Englishman countered by saying he was "a little bit more fired up than normal because of what's on the line. You've got to get fired up but it's all in check".
The 16,800-seat MGM Grand Garden Arena sold out within 30 minutes of tickets being made available and Internet resale sites are offering ringside seats for almost $13,000 (6,410 pounds).
An estimated total of 10,000 fans are expected to make the journey from Britain to watch the fight at the arena or at one of several closed-circuit venues along the Las Vegas strip.
A large crowd of Hatton supporters gathered outside the media centre at the MGM Grand on Wednesday, singing and chanting throughout the final pre-fight news conference.
The conference ended with the boxers shoving each other and exchanging insults as their respective camps struggled to separate them.
Hatton (43-0) won the International Boxing Federation light welterweight title by stopping Kostya Tszyu in June 2005.
He added the World Boxing Association welterweight crown by outpointing Luis Collazo in May 2006. In his most recent bout he knocked out Jose Luis Castillo in the fourth round in June.
Mayweather is a six-times champion in five different weight classes.
Richard Schaeffer, chief executive of Golden Boy Promotions, said gate receipts on Saturday would be $10.5 million and that the bout would be broadcast in 180 countries.
Floyd Mayweather Jr. (left) of the United States and Ricky Hatton of Britain pose for a face-off during a news conference at the MGM Grand Hotel and Casino in Las Vegas, Nevada.
Photograph: AFP/Getty Images