A post by striker Sunil Chhetri on social networking site Twitter in support of national coach Bob Houghton in the ongoing racial abuse case has irked the All India Football Federation.
In his tweet on Tuesday, Chhetri expressed disappointment that a "gentleman" like Houghton has been charged for racial abuse (of an Indian referee) and said "it will be a shame if he has to leave" the coaching job.
"Thinking and analysing everything that bob has done for us, in fact football in India, can't thank him enough! it ll be a shame if he has to leave," Chhetri wrote.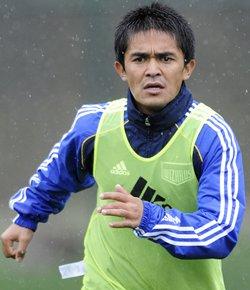 "N even worse, we charge him for racism, havnt seen a gentleman like him, leave behind d world class coaching n vast knowledge ... sorry bob!."
Houghton has been accused of racially abusing Indian referee Dinesh Nair in an international friendly against Yemen in Pune last year and a three-member AIFF panel is inquiring into the allegations.
Taking strong exception to Chhetri's remarks, AIFF general secretary Kushal Das said the executive committee will consider taking action against the footballer.
"The AIFF is extremely perturbed and concerned that national team players are making such unnecessary comments relating to AIFF's functioning and on the issue of coach Bob Houghton as well," Das said in statement.
"The matter will certainly be discussed at AIFF's next executive committee meeting and action may be taken, if necessary," he said.
If AIFF takes action against Chhetri, he will be the first Indian footballer to be punished for comments on Twitter.
After the AIFF issued the statement on Wednesday, Chhetri tweeted again, saying he has nothing against the federation.
"Press kaling me regarding my earlier tweet abt bob .. alright I have nthing against the AIFF, n havnt said a single word against it whatso ever," read Chhetri's latest tweet.
This is not, however, the first time that Chhetri has supported Houghton in the racial abuse case. Just after the AIFF Executive Committee decided in February to take legal opinion to sack Houghton, Chhetri had said "it was unfair to accuse the experienced Englishman a racist".
India captain Bhaichung Bhutia had also said that Houghton had not made any racial remarks against Nair and the referee was making false allegations.
Houghton was issued a show-cause notice on March 26, charging him for racially abusing Nair and making "derogatory" remarks against Indian football.
In the first hearing of the panel on April 11, Houghton denied the charges and termed them "baseless".
The AIFF also revealed that Chhetri was one of the seven players who had signed a memorandum accusing former manager Pradip Chowdhury for leaving the team prior to the Doha Asian Cup in January and was then issued a warning by the federation.
Das said the AIFF is in the process of strengthening the Code of Conduct for the players as well as officials and it would be implemented very soon.