Mohamed Bin Hammam of Qatar withdrew his candidacy to be FIFA president on Saturday, one day before he is due to face an Ethics Committee hearing into bribery allegations.
Bin Hammam, 62, the president of the Asian Football Confederation, was due to stand against incumbent president Sepp Blatter in the election at FIFA's Congress in Zurich on Wednesday.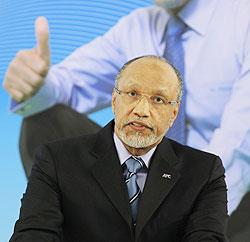 "It saddens me that standing up for the causes that I believed in has come at a great price -- the degradation of FIFA's reputation. This is not what I had in mind for FIFA and this is unacceptable," Bin Hammam said in a statement.
"I cannot allow the name that I loved to be dragged more and more in the mud because of competition between two individuals.
"The game itself and the people who love it around the world must come first.
"It is for this reason that I announce my withdrawal from the presidential election."