The obscure hamlet of Tainser was painted in silence except for a few young Adivasi lads who would regularly duel with bamboo sticks for possession of an indigenous ball. Little did the elders of the sleepy village in Jharkhand know that one of those lads was a star in the making.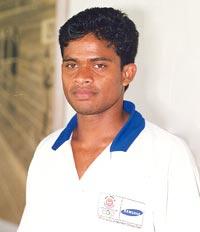 When Bimal Lakra rose to prominence by gaining a regular place in the the Indian hockey team, the sleepy village in the Simdega district went gaga, with Lakra's home becoming the centre of attraction.
"All the families in my village were delighted with our recent back-to-back tournament wins in Australia and Germany," said a smiling Lakra, who first came to limelight after India won the 2001 Junior World Cup at Hobart.
The second among six children, Lakra used to be scolded by his poor parents for whiling his time away on playing fields.
"I was a child and knew little how my parents struggled for survival. I spent my childhood playing with bamboo sticks, not bothering about scoldings," said Lakra, after some initial hesitation.
"But I was lucky to get away as my father Marcus was a Khasi tournament player," Lakra, who feels nostalgic while playing alongside his childhood idol, Dhanraj Pillay, said.
A product of the SAI training centre in Kolkata and the Centre of Excellence in Bangalore, Lakra's eyes sparkled as he expressed his indebtedness to Father James Lakra and Father Lazarus for what is he is today.
"I reserve my special thanks for them. They gave me moral and financial support. They were instrumental in sending me to SAI, Kolkata, in 1996 and to Bangalore, two years later," he said.
Lakra, a student of Ranchi's Gosnar College, felt India could climb more ladders under incumbent coach Rajinder Singh, who has a special package of tricks and skills.
"Rajinder Sir is exceptional. He wants us to play the traditional style and judiciously uses the rolling substitution rule."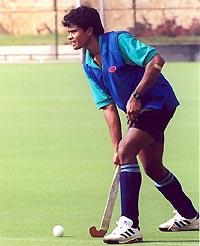 With Pillay not making others feel inferior by his seniority and passing on invaluable tips, India can very well claim the Champions Trophy.
"But it's a long time since India has won a gold in Olympics and our aim is to obtain it," Lakra, who leaves for New Delhi on Thursday for month-long training in the run-up to the Champions Trophy in Amsterdam, said referring to India's Moscow gold medal win way back in 1980.
Lakra may be the hero of Tainser now, but he has a long path to travel if he wishes to match such Adivasi hockey greats like Jaipal Singh, Michael Kindo, Sylvanus Dung Dung, Gopal Bhengra, Justine Kerketta and Manohar Topno.
PTI
Also read: Not Champions stuff yet