Gaganjeet Bhullar was in his element as he carded a stunning, error-free eight-under for the 14-hole round to lift his team, Wital See Punjab Lancers, to the top of the table on the second day of the inaugural Pearls Golf Premier League in Aamby Valley.
Punjab made a strong comeback after a modest first round at the picturesque Aamby Valley Golf Course.
With Rashid Khan coming in with a bogey-free six, Punjab Lancers had a scoring day as Thaworn Wiratchant and David Howell, the other two players in the side, also carded four-under each.
That gave Punjab a score of 18-under for the day and carried them to 24-under for two days.
First round leaders, Nippon Kenwood Delhi Darts' three scoring players were Rahil Gangjee 51 (-4), Johan Edfors 52 (-3) and Scott Bar 52 (-3). With today's 10-under, they were at 22-under in second place.
Two teams, Uttarakhand Lions and Shubhkamna UP Eagles, shared the third place at 17-under.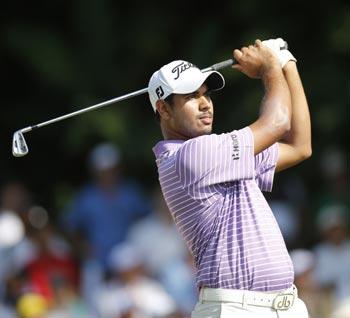 The final round will be played as better-ball stroke and there will be two scores from each team. In each pairing decided by the various teams, the better score in each duo will count on each hole.
The top two individual scorers for the second day were Thailand's Pariya Junhasavasdikul of Kensville Gujarat Underdawgs and Bhullar, who shot eight-under each.
Anirban Lahiri of Shubhkamna UP Eagles cracked a seven-under, despite feeling that he had left a few putts out there and Rashid carded six-under on a day when the scores were not exactly high.
Bhullar found the green in regulation in each of the 14 holes and had six birdies and an eagle.
"I found each of the 14 greens and frankly I had a chance on virtually every hole. I played aggressive and tried to go eagles on par-fives," Bhullar, a four-time winner on Asian Tour, said.
"I managed an eagle on par-five ninth and had six other birdies. I have great memories of this course as I won the only time I played here and also have the course record of eight-under," Bhullar added.
On the tournament itself, Bhullar said, "Golf is doing really well in India and this kind of a tournament adds to that. This course is really world-class and can host European Tour events, too."
Pariya, who was a last-minute induction into this star-studded field, was mighty pleased with his eight-under.
"It was big change from the first day. It was nice to get onto the greens more often. Everything fell in place today. I hit all 14 greens in regulations and gave myself ample chances of making birdies."
Rashid, one of the rising stars of Indian golf, said: "The big difference for me today was putting. I think my driving was better yesterday, but somehow I was not very confident about my putting."
Lahiri, who came in with a seven-under 48, said, "I could have gone one or two shots lower. I missed a few birdies putts. Hopefully we can get them tomorrow."
Photograph: Bazuki Muhammad/Reuters