Shiv Chowrasia's wife will be ruing her decision to stay in bed on Saturday morning after missing out on seeing her journeyman husband shoot the best round of the week at the Abu Dhabi Championship.
Jeev Milkha Singh (70-79) and Gaganjeet Bhullar (74-73) had missed the cut.
The twice former European Tour winner teed off at 0738 local time in the second match of the day but the 5-foot-5 (1.65-metre) Indian quickly catapulted his way up the leaderboard with a flawless seven-under-par 65 earning a five-under total of 211.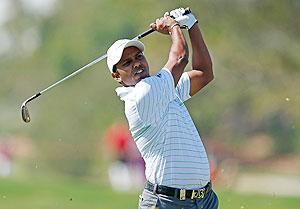 "My wife Simantini has been with me all week but it was too early a start for her today," the 34-year-old Chowrasia told Reuters in an interview on another sun-kissed day in the desert.
"She walked around the course with me on the first two days but then she said, 'No more, it's too early for me'."
Chowrasia enjoyed an 11th-hour reprieve on Friday just as he looked like missing the halfway cut that fell at two-over-par.
"I made a birdie putt from around 15 feet at the last hole yesterday to make the cut," he said.
"I finished two-over and I still thought maybe I'd missed out but my wife said, 'No, no, you might still get in' ... and I did."
Chowrasia was fired up on Saturday morning, producing a barrage of four birdies in a row from the second hole at the Abu Dhabi Golf Club.
The winner of the 2008 Indian Masters and 2011 Avantha Masters, which was also staged in his native country, picked up more shots at the 10th and 11th before allowing himself a little fist-pump after knocking in another birdie putt from five feet at the 18th.
"It was a bit cold early on this morning but there was no wind so that was a benefit," he said.
"It still wasn't easy though -- there were a few very tough pin placements out there and it's a tough course. After my four birdies in a row I was feeling really good and I just started trying to hit the middle of the greens.
"This is my fifth year on the European Tour and I feel I'm gradually getting better. Both of my wins have come in India and I want to win outside my own country," said the world number 452.
"I also want to play in the British Open for the first time. I've never played in any of the majors so that's another big goal for me."
Chowrasia has scaled down his efforts on the practice range this week because of a wrist problem that has niggled away since he sustained the injury in a motorbike accident in 2004.
"After my lunch I'll just do some chipping and putting," he explained. I'm not hitting too many practice balls right now because I've got some pain in the wrist.
"Every day I have it massaged and I also take painkillers but it didn't feel too bad today.
"I used to like riding motorbikes but one night at around 11pm I was going home and a car suddenly came straight at me from the wrong side of the road and hit me," said Chowrasia.
"I didn't come off the bike but I had six months off golf. I was playing on the Indian Tour then and I was looking to get on the Asian Tour."
Chowrasia knows he will need another good score in Sunday's final round to have a chance of winning.
"My ranking is so low I don't check what it is," he laughed. "My target is to get in the top-50 to get in the majors.
"I probably need to get to 15-under to win this week so I need a 62 or 63 tomorrow. I can do that - why not?
"I shot a 65 today so why not a 62 or 63?".
Photograph: Scott Halleran/Getty Images