Mohun Bagan on Friday named Karim Bencherifa as their new coach.
Less than a week after Santosh Kashyap was forced to quit following back-to-back losses in I-League and their Federation Cup ouster, Mohun Bagan official Srinjoy Bose said they have negotiated with the Moroccan for a fresh stint at the club.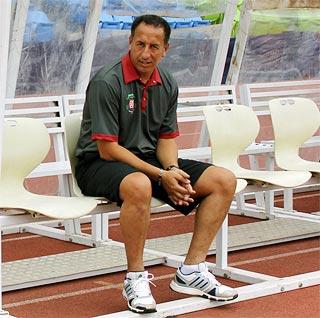 But the Moroccan is expected to take over the reigns only on November 18 after serving a one-month notice at Salgaocar. In the meanwhile, Mridul Banerjee, an AFC A License holder, will be interim coach.
"We are very hopeful that Bencherifa will be joining us on November 18. We have reached a negotiation. But at present he is serving notice so we are yet to sign on the dotted lines," Bose said on Friday.
Though he refused to divulge details of the deal -- a 19-month contract, supposedly worth Rs 2.5 crore -- Bose said Bencherifa will serve at Bagan till the 2014 season.
Bencherifa had tendered his resignation at Salgaocar on Thursday ending his contract which was till May 2013.
Both parties had an exit clause with a one-month notice period.
Mohun Bagan have so far changed eight coaches since the Moroccan had parted ways after his association with the club from June 2008 to January 2010.
After leaving Mohun Bagan, Bencherifa proved to be a success with Salgaocar earning them an I-League title and then the Federation Cup triumph last season.
Photograph: AIFF Media