Salgaocar SC are the defending champions in the Federation Cup. A day ahead of their season opener against Prayag United, Salgoacar coach Karim Bencherifa speaks about his team's preparations, Indian football and a lot more.
How have your preparations been for the Federation Cup?
The Federation Cup stays a tough challenge. We have had a busy transfer window as we had to find replacements of the players who left. We have roped in players like Sean (Rooney), Angel (Guirado) and Quinton (Jacobs). But if you look at our side carefully you will find the core of the team stays the same. We have a young side with more than half of the squad below 23.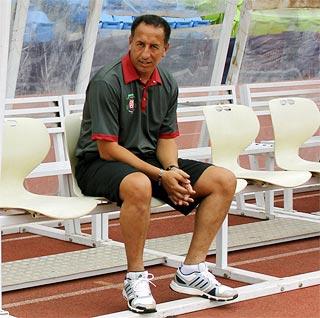 I'm a bit worried about not getting enough competitive matches before the Fed Cup. We played around 6-7 friendly matches but that isn't enough. But we will leave no stone unturned to defend our title. This Salgaocar team is one for the future.
Any injuries in the side?
Rocus (Lamare) is not match fit so we have not kept him in the final 20. He is of course registered and is in the 25 list of players. If needed, we can get him at a later stage.
You have been here for quite some time now. Do you believe Indian football is headed in the right direction?
Certainly! In the last three to four seasons, the I-League Champion was decided in the last round.  In 2007-08 season, when I was in charge of Churchill Brothers we lost in the title race to Dempo by goal difference of only four points. In 2008-09 with Mohun Bagan we lost the league to Churchill in the last match. The League was decided on the last day. The competition is intense.
At the AFC level, Salgaocar prevailed over teams from Uzbekistan team and Oman. We are improving for sure.
Photograph: AIFF Media