Reaction to former England captain David Beckham's announcement on Thursday that he is retiring at the end of the French league season:
Sepp Blatter (FIFA president)
"David Beckham, one of the most iconic figures in global football is retiring from playing. It's the end of a chapter of an amazing story.
"David grew up as a football-loving child and achieved his dreams, and unquestionably inspired millions of boys and girls to try and do the same.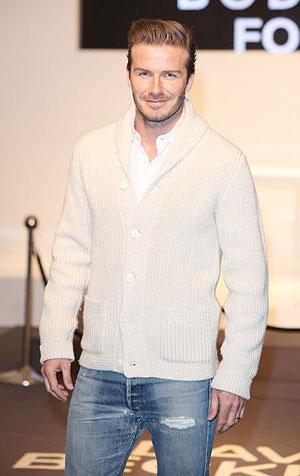 "Whatever he chooses to do next I'm sure he'll approach with the same dedication and good grace he displayed the last 21 years. Good Luck!"
Gary Neville (former England, Manchester United team mate)
"I think he just feels like it's the right time. It's been a huge week really in terms of retirements. You think of last week with Paul Scholes and Sir Alex Ferguson -- huge figures in English football over this last 20 years.
"It just feels as though he's taken it as far as he can, he wants to come back home... he's now got to the end of the road, he's finishing on a high at Paris St Germain.
"It does feel like it's the end of an era, the end of a generation.
"David was different -- he was a crosser of the ball, a passer of the ball, he was a joy to play with... He has probably been the most influential player out of England in transforming football. The impact he has had is enormous."
Roy Hodgson (England manager)
"He's had a glittering career, iconic status, and I wish him well in the future. A lot of people now will be offering him jobs which could take him away from football, but I'm hoping we can keep him. It's been a strange week for me seeing Rio Ferdinand retire, and not so long back John Terry, and now David Beckham, it does seem like the end of an era."
Fabien Barthez (former Manchester Utd and France goalkeeper)
"He was a humble and simple lad, like the one who just retired, Sir Alex Ferguson. He is very generous, a good lad, a simple guy.
"When I arrived in Manchester, he was, with (Ryan) Giggs and (Dwight) Yorke, one of the first to call me to invite me to dinner."
Diego Simeone (former Argentina player who Beckham kicked to receive a red card during the 1998 World Cup)
"He's a great professional. An extraordinary player and had success wherever he went. I wish him all the best in what he does, and I am sure he will be successful because he is very capable, and above all very intelligent."
Noel Gallagher (musician and Manchester City fan)
"He's had a mega career. Good for him he's had a great career.
"I told him this before and it's not going to come as a shock to him. I hated him when he played for Man United, hated him. HATE, proper hate. Luckily I met him when he left Man United and he's such a nice lad."
Sven-Goran Eriksson (former England manager)
"He was extremely professional in everything he was doing, and his right foot was not bad. He had many qualities and that is why he's David Beckham.
"A fantastic football player, a fantastic man, probably the biggest sports personality in the world. If you talk about David Beckham, all over the world they know who that it is. I don't think there is any other football player more popular than him.
"I remember all the matches with England and all the travelling - airports, hotels - and it was all about Beckham all the time. I rank him very, very highly. I never had any doubts about picking him."
David Bernstein (FA chairman)
"In the week following Sir Alex Ferguson retiring, which came as a bit of a shock, now we have the iconic David Beckham coming out of the game.
"When you look at his playing and work for England, no one would ever accuse him of being unpatriotic and not giving everything for his country. He is a real loss to the game and I am sure the FA will want to embrace him and to get him closely associated with the organisation."
Sebastian Coe (British Olympic Association chairman)
"It is impossible to think about the success of the London 2012 Games and not reflect upon the extraordinary commitment made by David Beckham.
"At every stage of the London 2012 journey - from the bid phase, to planning for the Games, to the torch relay and the unforgettable summer of sport in 2012, David was a constant source of support and inspiration.
"David is immensely proud of his north east London roots and readily understood the role the Games could play in transforming the lives of young people. His impact across football -- and all of sport -- will be felt for generations to come."
British Prime Minister David Cameron (through a spokesman)
"David Beckham has been an outstanding footballer throughout his career. Not only that he has been a brilliant ambassador for this country, not least if we remember all the work he did in helping us win London 2012.
"The Prime Minister's message would simply be to say, congratulations on a fantastic career."