David Beckham will lead England for the 50th time against Argentina in Geneva on Saturday aiming for a second successive win over his country's arch rivals.
It may be a friendly but, as Beckham well knows, the history between the two nations makes it anything but.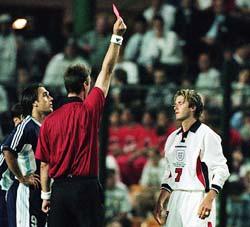 The worst, and one of the sweetest, moments of his England career have been against the South Americans.
In the 2002 World Cup finals in Japan he scored the winner from the penalty spot, making up for the red card he received four years earlier in France when Argentina won on penalties.
Beckham's successful spot kick in Sapporo in 2002 was a personal and national catharsis after years of hurt dating back to England's 1986 quarter-final defeat when Diego Maradona famously scored the Hand of God goal in a 2-1 victory.
Maradona, who is currently discussing a role with the national team, also scored a stunning second goal in that match against Bobby Robson's side, but the hurt remained.
Beckham will become only the second English player to play against Argentina four times on Saturday, joining former goalkeeper David Seaman.
Midfielder Diego Simeone, who Beckham kicked to earn his red card in 1998, has also played four times against England, while Argentina right back Javier Zanetti and striker Hernan Crespo can notch up their fourth appearances on Saturday.
Crespo's three all came as a substitute for Gabriel Batistuta.
The most recent meeting between the countries was a tepid 0-0 friendly draw at Wembley in 2000.
COMPETITIVE MATCH
England coach Sven-Goran Eriksson insists this is a competitive match -- the result could count towards seeding for the 2006 World Cup -- but the Swede and his opposite number Jose Pekerman are playing down past controversies.
England's 2002 penalty was won by Michael Owen, a player who has scarred Argentina badly having earned a spot kick in 1998 when he also sliced through the defence to score a wonder goal in St Etienne to mark his arrival on the international stage.
This time the mantle of match-winner could fall on the shoulders of 20-year-old Wayne Rooney, looking to make his first impression on one of the great confrontations of world soccer.
Unfortunately, Rooney will not line up against teenager Lionel Messi, Argentina's latest 'new Maradona' who is suspended after being sent off on his debut in Hungary in August.
Carlos Tevez could be a suitable replacement.
In leading Corinthians to the top of the Brazilian championship Tevez has rediscovered the form that made him, at just 17, the heir apparent to Maradona five years ago.
A hat-trick last weekend would have caught Pekerman's eye, while Rooney will also be fired up after helping Manchester United beat Premier League leaders Chelsea on Sunday.
England, who struggled to win their World Cup qualifying group, will field their strongest available lineup against a side Eriksson labels "one of the best teams in the world".
However, since Argentina became the first major nation to qualify for Germany with an impressive 3-1 victory over world champions Brazil in Buenos Aires in June, Pekerman appears to have lost his way somewhat.
Three successive away defeats in qualifiers since then have undermined team confidence and sparked an outcry from critics. Juan Sebastian Veron's absence has also worried some observers, notably Maradona.
RIQUELME PREFERENCE
Eriksson may be relieved that Veron, the playmaker in his 2001 Italian league title-winning Lazio side, has not been picked by Pekerman since he took charge in September 2004.
Argentina's coach favours the more South American style of Juan Roman Riquelme and his perceptive probing of the England defence from the hub of midfield may be more difficult to read for the likes of Rio Ferdinand, Sol Campbell or John Terry.
Argentina, though, have never faced an England midfield that boasts Frank Lampard and Steven Gerrard, both candidates to be European Footballer of the Year.
The 1966 World Cup quarter-final at Wembley, won 1-0 by Alf Ramsay's tournament winners, set the tone for Argentina-England clashes after Antonio Rattin's controversial sending off.
Rattin and Bobby Charlton later became good friends but the lanky Argentine midfield general won only English enemies at Wembley when he sat on the royal red carpet in protest at what he and his compatriots saw as an unfair dismissal.
The 1982 Falklands/Malvinas war merely exacerbated the feeling of enmity on the field of play culminating in Maradona's act of "revenge" in 1986.