"Posh Spice" Victoria Beckham insisted on Tuesday that her marriage to England soccer captain David Beckham would not be wrecked by allegations he had an affair with his personal assistant.
The Beckhams -- Britain's number one celebrity couple who command as much public fascination as royalty -- are the subject of a media frenzy after sexually explicit text messages, said to have been sent between Beckham and the assistant, were printed in a tabloid newspaper at the weekend.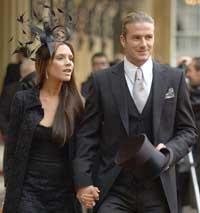 Rebecca Loos, 26, worked for Beckham, 28, when he moved to Spain last September to join Real Madrid.
Victoria Beckham, who will be 30 on April 17, told the Sun tabloid newspaper the couple's relationship would survive.
"We have been through a lot worse than this and we're definitely going to get through this," she said.
The Beckhams staged a very public display of affection for a celebrity photographer as David joined his wife and two sons on a skiing holiday in the French Alps.
Tabloid newspapers pictured them frolicking and laughing in the snow, eager to seem the happy, devoted couple.
Beckham met Victoria "Posh" Adams in the mid-1990s when she was a member of the Spice Girls. The perfect celebrity match-up, they married in a royal-style wedding in 1999 at which they sat on thrones in an extravagant ceremony.
The couple rivalled the late Princess Diana for paparazzi attention and have continued to dominate tabloids ever since.
| | |
| --- | --- |
| | Also Read |
| | |
Beckham makes headline news in Britain even when he has his hair cut -- and barely a day passes without pictures of Victoria and the couple's sons Brooklyn and Romeo being published in tabloid newspapers or fashion and celebrity magazines.
But rumours about the state of the soccer superstar's marriage started last September following his move to Madrid from Manchester United. Victoria has refused to move to Spain to be with her husband, determined to pursue her own pop career in Britain and to keep the children with her.
Beckham, who earns a fortune from advertising deals for sunglasses, sportswear and soft drinks, issued a statement on Sunday describing the allegations as "ludicrous" and saying he was happily married to a "wonderful wife".
"There is nothing that any third party can do to change these facts," he said.
But despite their efforts to brush off the claims, the Beckhams looked unlikely to stem the flood of media coverage about the alleged affair.
Tabloids offered pages of advice and comment and turned a critical eye on Loos, the daughter of a Dutch diplomat and an English mother, who was first photographed with Beckham in a Madrid nightclub last September.
Tales of Loos' sexual appetite and "wild flings" filled pages of the Sun, Mirror and Express newspapers while the Daily Mail comment page condemned Victoria and David as stupid and vain, blaming them for their current troubles.
"This wretched couple, who have come to represent so much of what is ugly about modern England, deserve one another and can stew together," said Mail sports commentator Michael Henderson.
"Not only are they stupid beyond belief, they are proud of it and determined to pass their stupidity and vanity onto the young who worship at their altar."