Bayern Munich President Uli Hoeness will stand trial for tax evasion in March, a German court said on Monday, but his club wants him to stay on in his current role.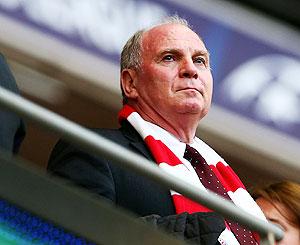 The charges of the prosecutor's office were admitted for trial which is set to start on March 10.
Hoeness, the face of Bayern Munich for many years, stunned Germany in April by saying he had voluntarily alerted tax authorities in January to a Swiss bank account he held, throwing the former West Germany international's future into doubt.
He said it was a personal account, created for his stock market trading. He admitted to gambling bigger and bigger amounts and taking a major hit as the dotcom bubble burst.
Bayern said in a statement the board's position was that Hoeness should remain as chairman despite the trial hanging over his head.
"The board is of the unanimous opinion that Uli Hoeness shall remain in his position even with a trial being set," the treble winners said.
A World Cup and European championship winner with Germany, Hoeness, who also won three European Cups as a player at Bayern, spent 30 years since as the team's general manager before being elected president of the Bundesliga's richest and most successful club.
Photograph: Martin Rose/Getty Images