Olympic gold medal-winning coach Sergio Batista was confirmed as expected on Tuesday to succeed Diego Maradona as Argentina's coach until the 2014 World Cup in Brazil.
Batista, who has already presided over three friendlies since August in an interim capacity, was officially presented as the new coach at an Argentine Football Association (AFA) news conference.
"The AFA executive committee has unanimously designated Mr Sergio Batista as the new coach of the Argentina football team along with his full staff," AFA spokesman Ernesto Cherquis Bialo said.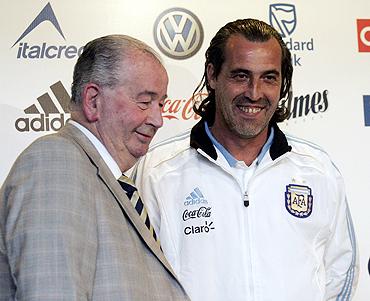 Maradona's contract expired after Argentina's humiliating 4-0 defeat by Germany in this year's World Cup quarter-finals in South Africa.
Batista, who will be 48 next Tuesday, named a squad earlier on Tuesday to play arch-rivals Brazil in a friendly in Qatar on November 17, his first commitment as the permanent head coach.
His first big test comes next July when Argentina host the Copa America, the South American Championship which Argentina last won in 1993 when they lifted their last trophy.
"We will work always aiming for the last match of 2014 (World Cup)," said Batista, who steered Argentina's under-23 team to the gold medal at the 2008 Beijing Olympic Games.