Marion Bartoli will play Aravane Rezai in an all-French final at the Tournament of Champions in Bali after both claimed straight-sets victories on Saturday.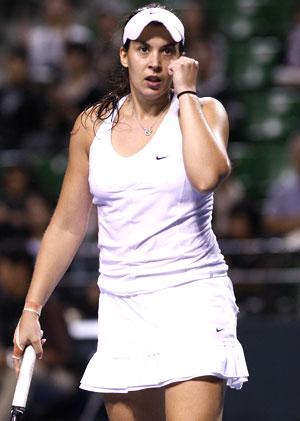 Bartoli reached her fourth final of the season by defeating Japan's Kimiko Date Krumm 6-1, 6-3, while Rezai beat Spain's Maria Jose Martinez Sanchez 6-2 6-3.
Date Krumm, at 39 the oldest player on the WTA Tour, was seeking her second final of the year after winning the Korea Open in September.
However, Bartoli came out all guns blazing, breaking her opponent in the opening game when Date Krumm netted a forehand and then firing three aces and a service winner to hold for 2-0.
Date Krumm made too many unforced errors against her French foe, who broke again for 3-0, and after conceding her own serve by netting a backhand Bartoli then won the final three games of the set.
Bartoli continued to dominate in the second set, building a 5-0 lead and earning match point when Date Krumm double-faulted. But a forehand down the line that landed wide sparked a brief fightback from Date Krumm.
She held serve for the first time in the match, broke for 5-2 and then held two break points at 5-3 to get back on serve before Bartoli closed out the contest on her third match point.
"Until 6-1, 5-1 it was absolutely perfect", said Bartoli, who will bid to add to the titles she won this year in Monterrey and Stanford.
"Then Kimiko started to play really well. She was swinging freely and hitting some really great shots. It wasn't my level going down, it was her playing too good.
"But I knew I just had to win one more game and that's what I did."
PERFECT DAY
Date Krumm felt that the fast surface and her style of tennis played into Bartoli's hands.
"I like this surface but I think she likes it more than me, and I think she likes my ball also, very flat," Date Krumm told reporters. "If I can play with more spin I think she would have more trouble, but that's not my tennis."
Rezai, who this week broke through the $1 million mark in career earnings, will be seeking her second title after winning in Strasbourg in May.
Like Bartoli, she stamped her authority on the match right from the start, breaking in the opening game.
After easing through the first set, Rezai's intensity and powerful baseline play continued to leave Sanchez Martinez struggling.
The Spaniard netted a forehand to give Rezai a break for 2-1, and Rezai closed out the match in style, winning the last two games to love and firing a crosscourt, backhand winner on match point.
"It was a pretty good match," said Rezai. "I'm very happy. I felt like I played very well, no mistakes. Today was perfect."