Will Michael Ballack leave or not?
The question has been weighing on his Bayern Munich team, German television networks and much of the rest of the country for months.
Germany's Player of the Year has repeatedly told Bayern Munich bosses he has not made up his mind whether to accept their lucrative contract extension offer and only promises to decide by late November.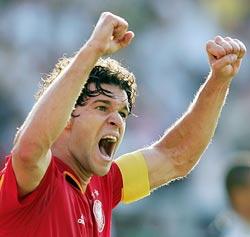 If Ballack decides not to re-sign with the German champions but to seek greater glory in Spain, England, or Italy, Bayern should have a chance to sell the 29-year-old Germany midfielder during the January transfer window before his contract elapses at the end of June.
The teams reportedly in the running for Ballack's services include Real Madrid, Barcelona, Manchester United, AC Milan and Juventus. Ballack's agent said he only had to make one phone call and everything would fall into place quickly.
"It's hard to stay here when one has good possibilities," Ballack said after a meeting with Bayern executives in late October when he told them he still was not ready to make up his mind. They have been demanding a decision since August.
"My heart is also with Bayern," Ballack added, carefully balancing his comments knowing that his sponsors and German television networks bidding for next season's league rights want him to stay.
PRIME YEARS
There are, however, clear signals that Ballack wants to spend some prime years of his career abroad -- as did all Germany's soccer greats before him.
"There is hardly anyone who played abroad that would advise against making this step," Ballack told the Frankfurter Allgemeine Sonntagszeitung in July after a triumphant June spent leading Germany to third place in the Confederations Cup.
"They say it helps your development," added the elegant midfielder and one of Europe's top players who hails from the small eastern German town of Goerlitz and has 60 caps with 29 goals. "That would be very interesting for me."
Germany coach Juergen Klinsmann spent most of his playing days abroad and team manager Oliver Bierhoff spent much of his career in Italy.
Ballack, who has won two Bundesliga championships and two German Cups with Bayern Munich, has repeatedly said a major aim is to win the Champions League.
At the age of 18, Ballack decided to stay in a regional league rather than move to the professional level with a second division team and said that turned out to be a good move. Later, he decided to transfer to Bayer Leverkusen from Kaiserslautern, another difficult decision that worked out, he said.
"Then there was the decision about transferring to Bayern," Ballack added, referring to his move in 2002 to Munich despite lucrative offers from Spain and Italy. He went to Bayern in part to stay in Germany for the 2006 World Cup.
"So far I've always made the right decisions," he said. "Right now I'm at a top club in Europe and have the chance to go abroad.
"I'm totally relaxed. The difficult decisions for my career are all behind me."
BECKENBAUER INTERVENTION
Another indication that Ballack is on the verge of leaving came from his agent, Michael Becker. In a recent newspaper interview, Becker said Ballack was still pained by the disrespectful treatment in Bayern that rained down on him during a weak spell in 2004.
Becker said Bayern were ready to sell Ballack to Barcelona last year. "That was until Beckenbauer put his foot down," Becker said, referring to club chairman Franz Beckenbauer.
Even though Germans such as Beckenbauer, Klinsmann, Bierhoff, Rudi Voeller, Guenter Netzer, Lothar Matthaeus and Juergen Koehler were once coveted by clubs in Italy, Spain and England, few top-tier Germans make it abroad nowadays.
"It's been a long time since someone with the quality seal 'Made in Germany' has been so sought after as Ballack," wrote the Frankfurter Allgemeine Zeitung.
"Ballack's departure would be a huge loss for the Bundesliga," wrote die Welt newspaper. "He's the only world-class German player around. But by moving abroad to a top club, Ballack would take his career to a higher level."
On his website, Ballack has posted an interesting selection of quotations from others that also seem to point to him leaving, even though media reports say his girlfriend and their three children want to stay in Bavaria.
"We're doing everything we can. But at the end of the day it's his decision, his future," Beckenbauer is quoted as saying in a German newspaper interview.
Ballack has also included a telling quote and piece of friendly advice from Luis Figo in Bild am Sonntag newspaper: "He's very talented and on the way to the top. I would advise him, based on my own experience, not to stop himself and not to have any fears about electing to move abroad."
While Bayern's sporting director Uli Hoeness expects Ballack to stay, coach Felix Magath is more philosophical.
"If he goes, he goes," Magath said. "Then, we'll have to resolve the situation without Michael Ballack."