Former champion Taufik Hidayat halted Danish youngster Jan O Jorgensen's giant-killing run 21-19, 21-19 to enter the semi-finals of the World Badminton Championships in Hyderabad on Friday.
In the women's draw, world number one Zhou Mi of Hong Kong was toppled 21-15, 21-18 by Chinese fifth seed Xie Xingfang.
Xie, the Beijing Olympics silver medallist, wore down Zhou with long rallies, often pinning the former China player to the backcourt.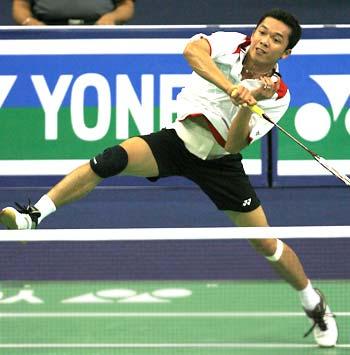 Indonesian fourth seed Hidayat appeared to wilt against his unseeded 21-year-old rival, who toppled Korean eighth seed Park Sung-hwan and 16th seed Boonsak Ponsana of Thailand in the last two rounds, as he was trailing 19-17 in the first game.
However, the 28-year-old Hidayat relied on his wealth of experience to clinch three superb points and pocket the first game before going on to win the match.
Hidayat will next take on Chinese second seed Chen Jin, who beat Indonesia's Simon Santoso 21-10, 21-13.
There was no Danish delight in the women's section either, after Chinese seventh seed Lu Lan knocked out third seed Tine Rasmussen 21-15, 21-13 in the quarter-finals.
Rasmussen, 30, just back after a four-month layoff due to a heel injury, made too many unforced errors and was often caught out by the speed of her younger opponent.
"I'm playing after a long time, I was not very confident," Rasmussen told reporters. "Today my fitness level was not there."
French eighth-seed Pi Hongyan rallied to down German 11th seed Juliane Schenk 15-21 21-15 21-19 in just over one hour and will face Xie in the last four.
Lu Lan will take on compatriot Wang Lin, the second seed, or Indian sixth seed Saina Nehwal.
Malaysian world number one Lee Chong Wei and Chinese fifth seed Lin Dan, seeking a hat-trick of world titles, will be in action later on Friday.