Olympian Ankita Das lost to China's Chen Meng 0-4 in the pre-quarters while national champion K Shamini and seasoned Mouma Das made third round exits as the Indian challenge in the women's singles event came to end at the Asian TT Championships, in Busan, Korea on Friday.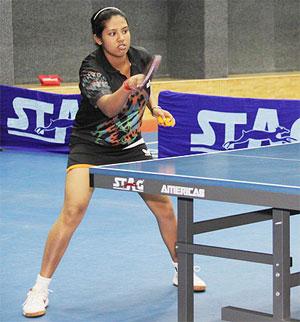 Coming off from a splendid seven-game encounter against Yang Haeun, Ankita (268) did not pose a challenge to Chen Meng (8) as she was walloped 6-11, 1-11, 5-11, 8-11.
Earlier in the day, Ankita had shocked 20th-ranked Korean 4-3 (11-7, 11-4, 5-11, 11-8, 9-11, 7-11, 11-4) in a keenly fought battle at the Sajik Gymnasium.
Shamini (261) lost to World No1 Ding Ning of China 7-11, 3-11, 10-12, 5-11 while Mouma Das (195) tried hard before going down to Japan's Kasumi Ishikawa (9) 4-11, 11-8, 2-11, 7-11, 7-11 in the round of 32.
In the men's doubles, Indian pair of Achanta Sharath Kamal and Sanil Shetty failed to capitalise on a good start and lost to Hong Kong's Cheung Yuk and Leung Chu Yan 4-11, 11-6, 11-9, 8-11, 8-11 in last-16 stage.
In the men's singles round of 32 matches, India's Sharath Kamal, Harmeet Desai, Shetty and Anthony Amalraj will be seen in action on Saturday.
Photograph: ARTSMITH