North London Club Arsenal has agreed a £23 million fee to sign Real Madrid striker Gonzalo Higuain, smashing their previous transfer record.
According to The Sun, the Argentine will undergo a medical test and is expected to sign a three-year deal, which comes as a huge relief for Wenger, who had promised Arsenal fans to spend serious money this summer after eight years without winning a trophy.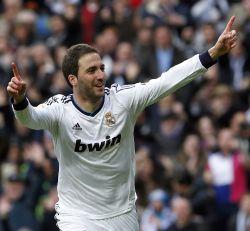 The report said that Higuain had been given permission by Madrid to fly to London following weeks of negotiations, and the Arsenal boss had made it clear that he wanted the powerful goal-scorer on board during their tour of the Far East next Thursday.
The Gunners' previous biggest signing was the £16.5 million they had paid to sign Santi Cazorla from Malaga last summer, the report added.
The transfer of Higuain could convince the other world-class stars from the world to join Arsenal, the club's boss said in a statement.
Photograph: Sergio Perez/Reuters