Second seed Victoria Azarenka beat Russian Maria Kirilenko 6-3, 6-4 in a see-saw Kremlin Cup final on Sunday to win her second title of the year.
Azarenka broke the sixth seed three times in the opening set. It was the first set conceded by Kirilenko all week, with the Muscovite dropping only nine games in her previous four matches here.
Kirilenko returned the favour by breaking the more powerful Belarussian twice at the start of the second to take a 4-0 lead but the world number 10 battled back to reel off six straight games and add the crown to her US victory in Stanford.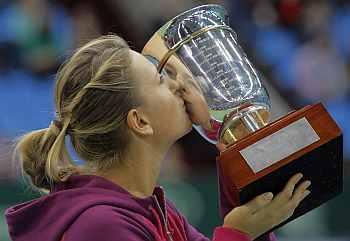 Azarenka had already secured her place in the season-ending WTA championships in Doha which start on Tuesday.
"This is a really big victory for me," the 21-year-old told reporters.
"Winning a tournament gives you great confidence but it was especially important to do it here ahead of Doha," he added.
Despite Sunday's defeat to her doubles partner, the 24th-ranked Kirilenko will return to the world's top 20 when the new WTA rankings are published on Monday.
"It was a good week for me, I just lost to a better player today," she said.