Australian Nick Kyrgios and Ana Konjuh of Croatia followed in some famous footsteps on Saturday when they were crowned junior champions at the Australian Open.
Krygios fended off another home player, Thanasi Kokkinakis 7-6, 6-3 while 15-year-old Konjuh was too good for Czech second seed Katerina Siniakova, taking the girls' title with a 6-3, 6-4 victory.
With two Australians in the final for the first time since 1994, the home crowd was guaranteed a double celebration for Australia Day.
Kokkinakis had two set points in the first set but 17-year-old Kyrgios eventually wore him down to claim his first Grand Slam title, all without losing a set, to become the second straight Australian winner after Luke Saville's triumph last year.
"I'm pretty stoked with the last two weeks I've had, winning the lead-up tournament and now the Australian Open," Kyrgios told reporters. "It's a great start on the year.
"I wasn't actually that nervous knowing he had set points. I thought I played the big points well.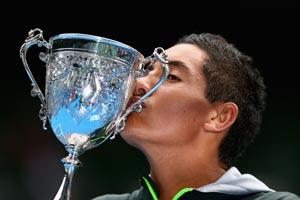 "Full credit to him getting to that position, but I thought I was a bit better on the big points today."
The 16-year-old Kokkinakis suffered a blow on the eve of the match when an MRI scan showed he has a stress fracture in his back.
"I was pretty shattered, to be honest," he said. "I woke up this morning and I was still a little bit annoyed but I thought I'd give it a crack.
"I actually did a little bit better than I thought I would. I didn't think I'd make it through a set. It held up and didn't really get that much worse during the play. But it just hurt when I tried to push off."
Kokkinakis had a similar injury in 2011 and had to stop playing for around six months but said he had still had the best month of his career.
"I had a good match in the Australian Open men's qualifying, which went 17-15 in the third set, the longest tennis match I think I've ever played.
"But to make it through to the final of the junior Australian Open, after my first-ever wins in a junior Grand Slam was a good feeling for me."
GOOD TACTICS
The girls' final was a repeat of the title showdown at the Orange Bowl event from last December and again it was Konjuh who came out on top.
Watched by her Fed Cup captain Iva Majoli, the 15-year-old came from 4-1 down in the second set to add the singles crown to the doubles title she won on Saturday.
"It feels really great," she said. "I won doubles and singles, in my first time here. Just the feeling is incredible."
"We played twice, so I know her well. I had good tactics and I just used them, I guess."
The victory means Konjuh will become the junior world number one on Monday, but Konjuh said she was already thinking of bigger things.
"I'm going to play (only) the junior Grand Slams," she said. I am going to play $10,000's, $25,000s and $50,000s because I just want to go now for my WTA ranking."
Konjuh said she was looking forward to playing for Croatia in the Fed Cup alongside 16-year-old Donna Vekic, who played in the main draw in Melbourne.
"It's another great experience," she said. "I'm going to get a chance to play with some pro players. I am just happy to be there."
Second seed Siniakova said she thought she had not done herself justice in her first Grand Slam final.
"I'm really sad because it wasn't my best game, so I am disappointed," she said. "She played very well but I think I could play better than I did.
"I think it was a little bit mental because we know each other so well. That was probably the main thing."
Photograph: Ryan Persie/Getty Images