Roger Federer boasted of his fitness, Maria Sharapova felt a bit rusty and Andy Murray berated himself but all three eased into the second week of the Australian Open with third round victories at Melbourne Park on Saturday.
While there was relief all round at the cooler temperatures after four days of stifling heat, Milos Raonic and Caroline Wozniacki both felt the stinging burn of an upset when they failed to reach the last 16.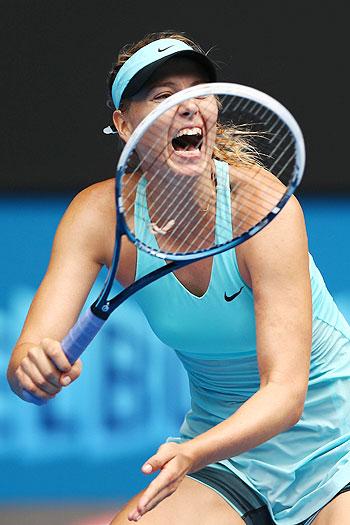 World No 1 Rafa Nadal was in action later on Saturday against Gael Monfils after Victoria Azarenka continues her quest for a third straight women's title against Yvonne Meusburger.
Federer looked at his imperious best as he dismantled Teymuraz Gabashvili 6-2, 6-2, 6-3 to reach the fourth round at a Grand Slam without giving up a set for the 27th time.
"I'm happy that from my side I'm winning my matches in straight sets," the 17-times Grand Slam champion said.
"It's been different conditions every match. The heat first, and the indoor match and now normal conditions today with a bit of wind."
Restored to Rod Laver Arena after a rare outing away from the centre court in round two, the Swiss is aware that tougher tests lie ahead but was just happy to be playing pain-free after struggling with his back last year.
"I'm just happy not waking up like an old man," said the 32-year-old, who failed to get to a Grand Slam final for the first time since 2002 last year.
"It was a tough year last year and now for the last few weeks, I'm feeling much better... I've done the hard work and that's perhaps why I'm playing well. "
STILL RUSTY
Sharapova continued to put on her distinctive ice jacket at end changes despite the considerably cooler temperatures as she beat France's Alize Cornet 6-1, 7-6 (7-6).
The Russian endured temperatures of 43 degrees Celsius to reach the third round in the longest match of career and her passage to the fourth round was mercifully shorter.
On the comeback trail after a shoulder problems cut short her 2013 season, the third seed accepted that she had won without playing her best tennis.
"I still feel like in certain situations I am a bit rusty and I'm not closing it out when I have to or maybe going for a little much or overthinking it a bit," the 2008 Australian Open champion said.
"That will come. I'm not worried about that. As long as I feel like I'm doing the right things and I'm playing the way I want to play, if I'm making those types of errors, they are going to go in eventually."
Murray is also finding his feet again in the toughest environment the game offers after missing the back end of last season following back surgery.
The Wimbledon champion was clearly not entirely happy with his game as he laboured, muttering and cursing at himself, through the first two sets against Feliciano Lopez.
The Spaniard faded after conceding the second set, however, and the fourth seeded Scot triumphed 7-6 (7-2), 6-4, 6-2 for his 14th straight victory over a left-handed opponent.
"It's been a good start," said the 26-year-old. "It was obviously very tricky conditions in the first couple of days (but today) was beautiful conditions to play in."
'BABY FED'
Murray next meets Frenchman Stephane Robert, who prevailed 6-0, 7-6 (7-2), 6-4 over fellow lucky loser Martin Klizan -- the first time a late replacement has reached the last 16 at the Australian Open.
While at 33, journeyman Robert is reaching the end of his career, Grigor Dimitrov has just started to fully exploit his undoubted talent and he took another step when he reached the fourth round of a Grand Slam for the first time.
The Bulgarian, better known for being Maria Sharapova's boyfriend, edged 11th seed Raonic 6-3, 3-6, 6-4, 7-6 (12-10) in an 156-minute Margaret Court Arena thriller.
The 22-year-old has clearly tired of the nickname "Baby Fed", bestowed upon him because of the similarity of his playing style to Federer's.
"What can I say? We have debated that for quite some time and we have said it loud and clear that my name is Grigor."
Former World No 1 Wozniacki was left ruing her failure to convert more than five of the 16 break points she forced in her 4-6, 7-5, 6-3 defeat at the hands of rising Spanish talent Garbine Muguruza.
"You know, sometimes it happens, you just don't take your chances," the 10th-seeded Dane lamented. "I won the first set, was up in the second. I don't think I did anything particularly wrong."
Image: Maria Sharapova of Russia plays a forehand in her third round match against Alize Cornet of France at the Australian Open on Saturday
Photograph: Cameron Spencer/Getty Images