The Australian Open has hiked total prizemoney by 15 percent to a record A$30 million with an eye on satisfying player demands for a better share of grand slam revenues, Tennis Australia CEO Steve Wood told Reuters on Tuesday.
Players from the men's draw said they were on the verge of boycotting last year's tournament after a heated meeting before the tournament, citing frustration over the share and distribution of prizemoney at grand slams and other major ATP events.
Organisers had yet to decide how the prize pool was to be disbursed, but would consult with players in Shanghai next week, Wood told Reuters by telephone.
"We'll make the decision (on distribution) later in the year," Wood said.
"It was really just time to listen to what the players are telling us in terms of the rewards for the massive growth we've had at the Australian Open and compensating them accordingly.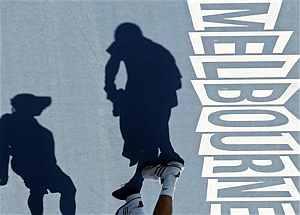 "And that's what we've down and we're very pleased with that."
The year's first grand slam is the richest event in Australia's sporting calendar, with revenues used to subsidise the game's development across the country.
But critics say the tournament's riches have failed to produce enough world class players Down Under, particularly in the men's game, with 31-year-old double grand slam champion Lleyton Hewitt the last Australian male to win a major at Wimbledon in 2002.
Wood said officials had already budgeted for a significant increase, but would have to do a "little bit of juggling" to allow for it.
"That shouldn't be a huge problem for us ... We've got some surplus that we would use to fund the increase.
"The early signs, which gives us great confidence, is that we're ahead of where we were in some of those (revenue-generating) areas over last year.
"So we're feeling like as a risk to our business, it can be manageable."
One area that might help finance it is a A$5 hike in general admission ground passes to A$34, which thousands of tournament-goers buy to pack out Melbourne Park's minor courts and outdoor areas in the first week.
The prizemoney announcement is likely to place pressure on the year's other grand slams, the French Open, Wimbledon and U.S. Open, to raise their pools accordingly.
The elite of the men's game have long agitated for a better deal from tournament organisers and a less arduous tour calendar, but have achieved only limited concessions in recent years.
Analysts have blamed a lack of unity among players, with the top earners having less incentive to challenge the status quo compared to the lower-ranked players, who grind their way around the tour.
Photograph: Steve Holland/Reuters