Richard Gasquet won his first ATP title in more than two years when he continued his domination of Gilles Simon by swatting aside his French compatriot 6-2, 6-1 to claim the Thailand Open on Sunday.
The indoor hard-court title was the seventh of Gasquet's career and the easy victory improved his record over Simon to 6-0.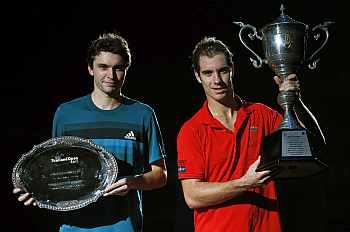 The 250 rankings points will also help improve the world number 14's chances of reaching the season ending World Tour finals in London in November for the top eight men.
Fourth-seed Simon started brightly by breaking Gasquet in the opening game before unravelling in the lopsided contest in the Thailand capital with his failure to win points on his serve letting him down.
"I played against a French player who is also my friend so of course it a little bit strange but for me it's a title and I've had some tough matches this week so I'm very happy to win," Gasquet told reporters.
Photograph: Damir Sagolj/Reuters