The damning facts published this month by the United States Anti-Doping Agency (USADA), proving that cyclist Lance Armstrong was the ring leader of the most sophisticated doping scandal in the history of sports, has vindicated those who suffered at the hands of the American.
- Armstrong banned for life, loses Tour de France titles
-  How the noose was tied around Armstrong's neck
- All about the Lance Armstrong doping case
The USADA report clearly said Armstrong and his cronies possessed a cynical assuredness that their yellow wristbands entitled them to smash anyone who threatened their corrupt regime, according to a report in the New Year Daily News.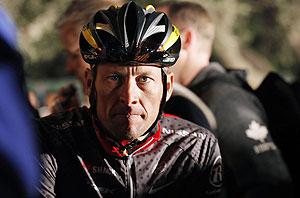 Doping might sometimes be a victimless crime, but not in the case of Armstrong, whose drug abuse and illicit blood transfusions created a fake empire of wealth, adulation and power that had to be protected at all costs, it added.
The Armstrong myth was so lucrative that suppressing the truth came to require an endless behind-the-scenes campaign to bully and intimidate people into silence, and some of it bordered on gangsterism, it said.
The paper further said, some of it was dressed up in the respectable wardrobe of elite law firms. But mostly it was just hot air -- a fact that by 2010 had become clear enough to Floyd Landis that he stepped up and burst the bubble, blowing the whistle on the whole big fraud.
In 2008, when the Daily News started reporting in earnest on the growing evidence that Armstrong had cheated, we found that paranoia struck deep in the cycling world, the paper further added.
It's a small industry, and Armstrong was a transcendent figure, so powerful inside his sport that people feared for their livelihoods and reputations if they crossed him, it said.
Photograph: Mike Hutchings / Reuters
Also read:
- Factbox: State of the Lance Armstrong Foundation's finances
- Armstrong steps down from charity; Nike drops sponsorship
- We will move forward: Lance Armstrong