Three times champion Andy Roddick cruised to a 6-3, 6-2 second round victory over Benjamin Becker in the Washington Classic on Wednesday in his first match since his five-set loss to Roger Federer at Wimbledon.
"I wanted to get out there and make him play a lot of balls and get my feet under me and not overplay out of the gates," Roddick told reporters. "I wanted to work way into the match, get some rallies going and try to do the basics well."
The world number five needed only 55 minutes for the triumph over the German which saw him through to a third round meeting with fellow American Sam Querrey on Thursday.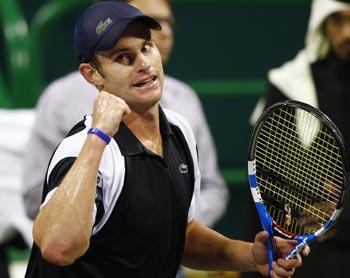 Roddick said there were no concerns about his fitness after a four-week layoff and that his right hip, injured in a fall during his nail-biting loss to Federer in the Wimbledon final, was fine.
"I didn't serve very well," Roddick said. "But if there's one thing that's a little rusty that I'm not worried about coming around, it's my serve."
The match against Querrey could be more of a challenge.
"He's in form, having won in LA last week," Roddick said. "He's had a month of good matches behind him, so it's going to be a tough one."
The 16th-seeded Querrey advanced with a 6-3, 6-4 win over Igor Kunitsyn of Russia.
Fourth seed Fernando Gonzalez of Chile and fifth seed Robin Soderling of Sweden also moved forward but ninth seed Mardy Fish was beaten.
Gonzalez defeated qualifier Alejandro Falla of Colombia 7-5, 7-5 and Swede Soderling breezed past Russia's Mikhail Youzhny 6-3, 6-1, while American Fish was beaten 1-6, 6-4, 6-1 by Germany's Philipp Petzschner.