The US Open finalist says Nadal, not nerves, was his undoing in the title decider
'It's a tough loss, but it was obviously a great experience'
'I'd love to build on these two weeks'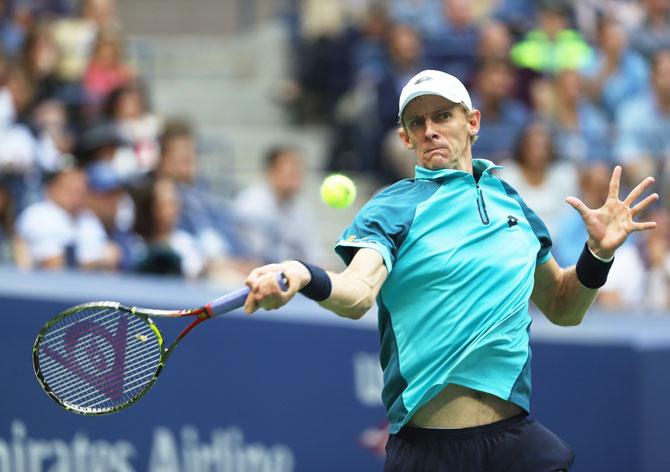 IMAGE: South Africa's Kevin Anderson returns a shot against Spain's Rafael Nadal during their US Open singles final at the USTA Billie Jean King National Tennis Center in the Flushing neighborhood of the Queens borough of New York City on Sunday. Photograph: Matthew Stockman/Getty Images
First-time grand slam finalist Kevin Anderson said he felt relaxed going into Sunday's US Open decider but was overwhelmed by the "conundrum" of Rafael Nadal's ruthless all-court game.
Although the same age as the 31-year-old Spaniard, the late-blooming South African faced an opponent contesting his 23rd grand slam final and fourth at Flushing Meadows.
"I think the nerves that I was maybe going to feel, you know, I felt pretty good out there," Anderson told reporters after his 6-3, 6-3, 6-4 defeat.
"I thought I was hitting the ball very well.
"It was more the conundrum of playing Rafa as opposed to being in my first final."
"I'd love to build on these two weeks," Anderson said.
"It was very difficult, but I was able to find my way all the way into the finals. I'll work very hard to hopefully give myself another opportunity.
Sad yet bolstered, an Anderson who has worked to be more emotional in matches was of two minds after finishing.
"It's a bit of both. It's a tough loss, but it was obviously a great experience," Anderson said.
"A lot of talk about enjoying the experience and stuff. It was very tough, but definitely a part of that were a few moments that were pretty special.
"There were a few lessons I learned from him. When I reflect back in the next little while, I think a lot of the good memories will definitely surface."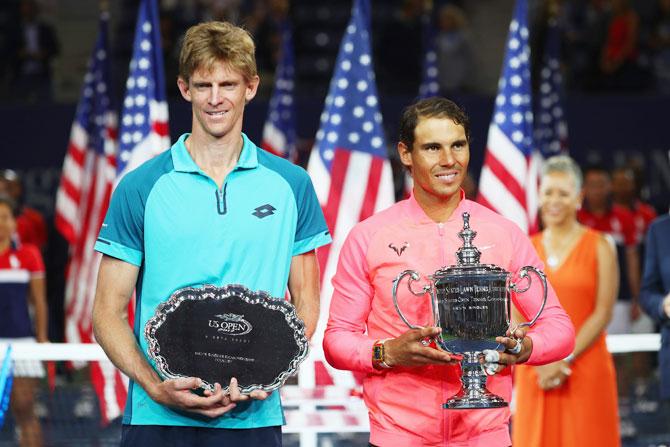 IMAGE: US Open finalist South Africa's Kevin Anderson and US Open winner Spain's Rafael Nadal pose during the trophy ceremony after their final match on Sunday. Photograph: Clive Brunskill/Getty Images
"Maybe it is a bit more natural for me now. When I'm going out there, it doesn't feel as forced. I'm not thinking about it as much," Anderson said.
World number one Nadal played near-perfect tennis on Sunday, committing just 11 unforced errors, never facing a break point and winning all 16 points at the net, including a beautifully timed volley to clinch the title.
That level of performance was too much for Anderson, who relies heavily on a huge serve that typically wins bunches of free points off lesser opponents.
Not so against Nadal, a human backboard who pressured the South African's serve from the outset and broke him four times from his nine opportunities.
"Rafa made it very difficult for me tonight," he said of the Mallorcan, who celebrated his third title at Flushing Meadows.
"I felt he got a lot of returns back. He varied his return position quite a lot. You know, one of the best defenders in our sport."
The World No 15 South African said he will take inspiration from his run this fortnight and is eyeing a return to the top 10 in the leaderboard
"The target of getting back to 10 is something I set myself a little while ago," Anderson said. "Got off to a bit of a tough start beginning of the year, but especially this summer I've really put myself in a good position.
"When I'm taking care of the stuff I need to, the ranking will take care of itself. It's great to see the jump I've made and the spots I have been able to climb, something I can be very proud of."
"Tennis is very mental and I have definitely proved to myself it's something I can rely on. I've always been a tough competitor. I've always fought. This is just adding an element, something I will definitely be continuing with."