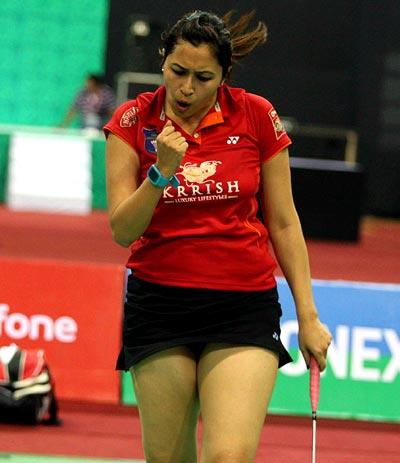 Sports Minister Jitendra Singh responded to his senior colleague in the government Veerappa Moily's letter to him in connection with Jwala Gutta's ongoing impasse with the BAI, saying that he will examine her case and see how he can extend support to her.

In response to Petroleum Minister Moily's sternly-worded missive sent to him last week in support of Jwala, Jitendra, in a letter, dated October 26, said all possible assistance has been extended to the ace shuttler.

"I have asked my department to look into the matter and take quick action," Jitendra said in his letter to Moily.

"As far as Sports Ministry is concerned all the necessary assistance has been extended to Ms Jwala Gutta from time to time. She has been included as a core probable of the Indian team for the forthcoming Commonwealth and Asian Games to be held in 2014.

"For this purpose, said she has been included for the national coaching camp being held in Lucknow," the Sports Minister further stated in the letter.

Moily had asked for a fair treatment to the embattled badminton ace, who is facing a life ban for an alleged disciplinary breach in the Indian Badminton League.

Jitendra, though, added that the matter is now sub-judice.

"As regards the issues, that the player is having with BAI, since the matter is sub-judice, my Ministry will take action as per court orders.

"While the court has allowed Ms Gutta to play for the country, it has not allowed stay on the proceedings to the committee," he stated.

Jitendra said like with any other sportsperson the Sports
Ministry will always look to protect Jwala's interests.
"The Ministry of Youth Affairs and Sports and I are committed to protecting the interests of sportspersons of the country. We shall do everything within our power to support and nurture our sportspersons so that they bring laurels to the country," Jitendra said in the letter.
Moily, in his letter dated October 23, had said that "a player of her (Jwala's) stature and reputation, who is a pride of our nation, is being treated in an unfair manner by the BAI over an apparent trivial issue".
Moily had also threatened to end the petroleum sector's association with the Badminton Association of India.
"I may also like to mention that if the impasse continues for long which ultimately brings the sport and sportspersons to disrepute, petroleum sector may have to reconsider its association at various forms of support to BAI," Moily's letter had stated.
The doubles specialists, who is employed by Bharat Petroleum under the sportsperson category, has in recent times been involved in a battle with BAI.
The BAI's disciplinary committee recommended a life ban on Jwala for trying to stop some players of her franchise Krrish Delhi Smashers from playing a match against Banga Beats in the Indian Badminton League in August this year.
Meanwhile, former India coach Vimal Kumar said he hopes that the issue would be sorted out at the earliest.
"BAI is waiting for the inquiry to be over. I don't think BAI will come in the way of Jwala's participation. They are waiting for the decision to come and I have met the BAI president Akhilesh Dasgupta and I am sure the issue would be sorted out soon," said Vimal.