The AIFF has honoured living members of the 1962 Asian Games gold medal winning squad during its Platinum Jubilee function in New Delhi, which also saw the unveiling of technical director Rob Baan's master plan.
It was a grand gathering graced by former greats.
However, some of the living members of the 1951 Asian Games gold medal winning squad as well as some members for the 1962 squad could not make it to the function due to health reasons.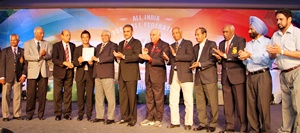 Chuni Goswami, the captain of the 1962 squad along with P K Banerjee, Prodyut Burman, Prasanta Sinha, Franco, Ethiraj, Afzal and Arumanayagam were present on the occasion.
AIFF president Praful Patel presented a silver plaque and a shawl to each one of them.
"It's a personal honour to be a part of AIFF's Platinum Jubilee Year. I always maintain that managing football is far more challenging than managing the ministry. We have to work that extra bit to achieve our goal. We have completed 75years, now we should set goals for the next 25 years," Patel said.
Speaking on behalf of the yesteryear greats who were felicitated, Goswami said, "I'm overwhelmed by the reception. I thank AIFF for this. The 1962 Asian Games will forever be etched in memory as golden days of Indian Football. But it's time to move ahead and not rest on laurels. Indian football is going ahead as we boast of a capable coaching staff."
PK Banerjee complemented Goswami. "The AIFF has always supported its players. I stay grateful to them to honour us at such a platform."
As the evening wore on, Baan unveiled his master plan, Lakshya.
While unveiling the much-awaited doctrine that holds the future of Indian football, the 69-year old Dutch said, "This is not my master plan. After coming to India I met so many people, visited state associations and attended so many seminars and camps. We interacted and the suggestions have been taken into account."
"I believe kids need to be brought into football. They should be given proper space to play and be educated. The coaches and the referees also need to be educated."
"The curriculum of football should be updated. Take Barcelona for example. They often play without a striker. The dynamics of football curriculum has changed and we need to stay updated," he insisted.
Photo: Courtesy AIFF