The unprecedented success of the inaugural Hockey India League has prompted the national federation (Hockey India) to plan a similar franchise-based event for the women players in future.
Lured by the phenomenal success of the just-concluded HIL, Hockey India is now thinking of organising a similar league for the women players in two years' time.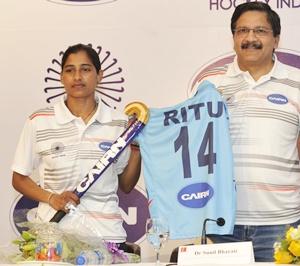 "The success of HIL has made us think of planning a league for the women players. It will be a big boost for women's hockey. We are thinking of starting the league in two years but everything is in planning stage now," Hockey India secretary general Narinder Batra said in New Delhi on Friday.
Informing about the women's league, Batra said the tournament will be a six-a-side affair and will run along side the HIL.
He also said that Hockey India are in talks with the five franchises of HIL to raise the teams in the women's league.
"The women's league will be a modified version. We are thinking of a six-a-side event and the length of the pitch will be shortened," said Batra, who is also the chairman of HIL.
Batra said the sixth franchise of the HIL, which went unsold in the inaugural edition, will be a southern city.
"We are in talks with some corporate houses who have shown interest in buying the sixth team. Once finalised, the name of the owner will be announced soon, but the team will definitely be based out of southern city.
"It might be Bangalore or Chennai or any other city from the south. The decision will rest on the owners. But from next year, HIL will be a six-team competition as planned," he said.