'I am very happy to get national recognition of my long and hard work,' Anthony Amalraj tells Rediff.com's A Ganesh Nadar after winning the Arjuna Award.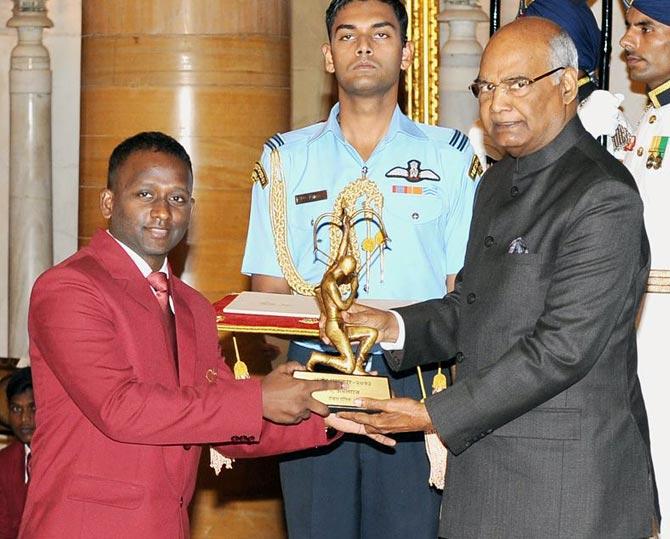 IMAGE: Anthony Amalraj receives the Arjuna Award from President Ram Nath Kovind at Rashtrapati Bhavan, August 29, 2017. Photograph: Kind Courtesy Press Information Bureau
For table tennis veteran Anthony Amalraj, it was a much awaited reward for all the hard work he has put in over the years when he was conferred the Arjuna Award.
"It took 25 years of playing and 11 years of playing for India to get the Arjuna Award," a beaming Amalraj says.
"I am really very happy to get national recognition of my long and hard work," adds Amalraj, 31, who reveals he has struggled to get any kind of recognition from the Tamil Nadu government.
"In the past five years, public interest in table tennis has grown," he says, "We get crowds watching us when we play. This really encourages us. A few years ago this was not the case."
Amalraj, who trains in Spain, says the support from his employers ONGC has been instrumental in his success.
"ONGC is very encouraging to my game, they give me leave whenever I have to play a tournament."
Currently ranked 130 in the world, Amalraj hopes to break into the top 100 next year.
"I have a lot of tournaments lined up and hope to improve by the end of this year. It is possible that I will break into the top 100 late next year," he says.
The finest moment of his career, he says, was his victory over five-time champion Sharath Kamal in 2012 to win the national title.
Amalraj then teamed up with Kamal to win the silver medal in the men's doubles at the 2014 Commonwealth Games.
He began playing table tennis when he was six years old and hopes to continue playing till he is 36.
"You can join any academy to train," is his advice to youngsters, "but what will matter finally is how long you practice what you are trained to do."