Factbox on Barcelona, who were crowned Spanish champions for the 22nd time after second-placed Real Madrid's 1-1 draw at Espanyol on Saturday left them with an unassailable lead.
Early days
Founded in 1899 by Swiss businessman Hans Gamper, Barca won Spain's inaugural 10-club league championship three decades later with 25 points, two more than Real Madrid.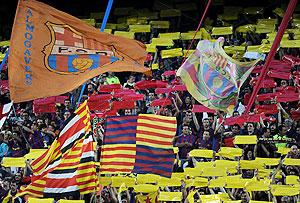 The victorious team included Barca legend Josep Samitier, a centre forward whose acrobatics earned him the nickname "lobster man", and was coached by Englishman James Bellamy and Spaniard Roma Forns.
Civil War and revival
Barca went into steep decline during the political turmoil of the 1930s -- club president Josep Sunyol, a member of parliament for a pro-Catalan independence party, was shot dead by Francoist forces in August 1936 -- and did not win a second league title until 1945.
To escape the fighting and raise money the team went on a tour of Mexico and the United States and some of the players never returned.
Samitier took over as coach in 1944 and with players like forward Cesar Rodriguez they won the title in 1945 and two more crowns in 1948 and 1949 under Enrique Fernandez.
The Hungarian connection
The arrival of Hungarians Ladislao Kubala, Sandor Kocsis and Zoltan Czibor in the 1950s, as well as Spaniard Luis Suarez, transformed the club and although they were competing against Alfredo Di Stefano's magnificent Real side they won consecutive titles in 1959 and 1960 under coach Helenio Herrera.
Cruyff
To cement their status as a European force, Barca built the massive Nou Camp stadium, finished in 1957, but the 1960s was a depressing time for their fans, with Real dominating Spanish and continental football.
It was only when Dutchman Johan Cruyff was signed from Ajax Amsterdam in 1973 that their fortunes changed and he led them to their ninth league title in his first season.
However, success was again short-lived and they had to wait 11 years before their next triumph in 1985 under another Englishman, Terry Venables.
Dream Team
The hiring of Cruyff as coach in 1988 sparked a golden age and his hugely entertaining side became known as the "Dream Team", winning four straight league titles between 1991 and 1994 and Barca's first European crown in 1992.
After Cruyff's departure, a couple of titles under his Dutch compatriot Louis van Gaal, including in the club's centenary year of 1999, took their tally to 16 overall.
Another Dutchman, Frank Rijkaard, took charge in 2003 and with a team built around the mercurial talents of Brazilian Ronaldinho, led the club to La Liga titles in 2005 and 2006 and a second European crown.
Pep
When Rijkaard's project turned sour, president Joan Laporta looked within the club for a replacement, promoting Pep Guardiola, one of the stalwarts of the Dream Team, from reserve team coach in what proved one of the most momentous decisions in the club's history.
In Guardiola's first season in charge, Barca became the first Spanish club to win the treble of domestic league, King's Cup and Champions League.
Helped by the incredible goal-scoring exploits of Argentine World Player of the Year Lionel Messi, they won 14 trophies under the former midfielder, including two league crowns, another Champions League and last season's King's Cup.
An exhausted Guardiola, wearied by his battles with Real coach Jose Mourinho, stepped aside and was replaced by his assistant and close friend Tito Vilanova.
Despite being struck down by throat cancer, Vilanova has repeated Guardiola's feat of winning the La Liga title in his debut season.
Photograph: Jasper Juinen/Getty Images