Passion in my game was dying, so hung racquet, says Somdev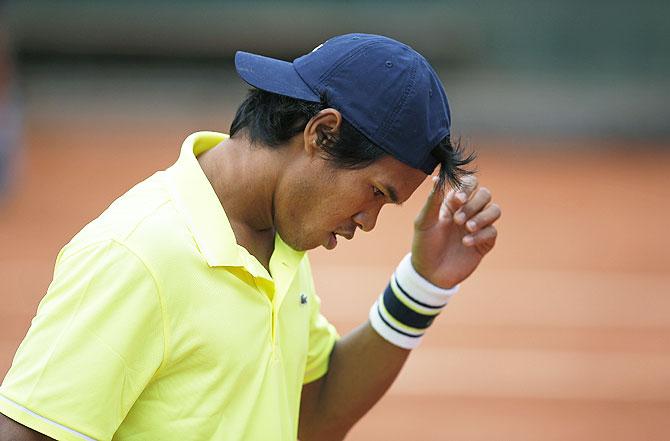 IMAGE: Somdev Devvarman, once India's brightest tennis talent. Photograph: Gonzalo Fuentes/Reuters.
At the age of 31, India's tennis star Somdev Devvarman hung his racquet, having two runners-up finishes on the ATP World Tour as his best performances on the Tour.
Somdev, on Sunday, said it was right time for him to quit international tennis since the passion with which he used to play was 'dying' and he felt he will not be able to play his best tennis.
Known for his baseline slugfest and sheer doggedness with which he played his game, Somdev gave India many memorable wins in the Davis Cup.
1. Passion in my game was dying
"I last played a match in Indian Wells in March (2015) and after that I had a chat with my people. I pretty much decided at that time that it was time to stop. I have read people saying I was injury plagued but it was not about that. I wanted to play for right reasons. Playing for me was always super fun and passion, that was dying or slowing down," Somdev said on the sidelines of Chennai Open.
2. I knew I would not be able to play my best tennis
"That is my biggest strength, my fighting spirit and that passion and heart more than forehands and backhands. Second, I knew I would not be able to play my best tennis. I wanted to be in top-100 and started reaching a point through injuries where I felt it will be tough for me to come back to top-100. Once I realised that I decided that it was time to stop," he said elaborating on his decision.
3. Playing and going for tournaments was not exciting
"The enjoyment in training was not the same; the enjoyment in travelling was not the same. I was not tired I have done it for so long. It was not fresh. Playing and going for tournaments in Asia was not exciting for me," Somdev, who touched a career-high rank of number 62 in 2011, said.
As he goes out of the scene, Somdev feels AITA has not been doing enough for the game since the will is not there.
"We need to change the culture how sports is looked at. Professional sport is not joke. People don't understand that. We don't have right people at the top, who truly understand what it takes to be world class athlete. The people in the National federations are not right ones to make decisions.
They do not do anything, and it's a decision. I have not come from Indian system but from College system in US. I don't see what AITA has done to churn out players. We don't have training centres and don't have expertise," he said.