God bless Vijay Mallya.
Indeed!
Sunday's Bahrain Grand Prix was an absolute corker of a race, with the Ferrari team stamping its unchallenged domination and, more excitingly, the BMW team emerging as a genuine challenger for the world titles, which would make the year a three-way battle instead of yet another two-team dogfight.
But speaking of dogfights, one particular moment endures from Sunday's race.
McLaren's Lewis Hamilton, that overhyped British racing superstar that country's press -- singularly dominant in worldwide media motorsport coverage -- loves to TigerWoods-ise and hail to the skies, pressed the wrong button on his gleaming MP4-23 steering wheel, engaged an inappropriate engine setting, and later corroborated his blooper by bunging his car's nose right into the rear wing of Fernando Alonso's Renault.
The young racer, a fine driver but never really applauded for his overtaking abilities, ploughed from a lap behind the leaders to eventually crawl into fourteenth place, after which he faced stiff opposition from Italian driver Giancarlo Fisichella, who wasn't content to let the McLaren Mercedes swing ahead.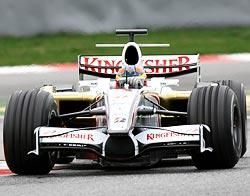 For three breathtaking laps, we were witness to some gritty and fantastic defensive driving as the former Renault driver parried expertly to counter Hamilton's ambitious thrusts, and his Force India car frequently pulled away showing a defiantly impressive burst of straight-line speed.
It was a strong and striking display of determination and driving superiority from Fisichella, yet we have seen such performances before, and even from the same driver. What was remarkable in Sunday's instance was the massively proud thumping in our hearts.
Formula One, no matter how obsessed the Indian fan may be, is an exotic sport to us. A sport with largely European roots, it makes us champion the cause of German drivers while wearing scarlet tee-shirts with Italian horses emblazoned across them. But on Sunday, this changed.
We saw an Indian team whipping one of the biggest budgeted and most historically significant teams in Formula One history, and it felt pretty darned good. Suddenly, we weren't clapping for a team who didn't know we existed, but one that we -- in our own, almost insignificant Kingfisher-pint-in-the-ocean way -- had seen emerge, a business legacy created by one of us, sculpting an ambitious team that indubitably stands for India.  It is a big deal.
There have been many naysayers who have scoffed at Dr Mallya's Force India team: at the fact that it will take ages for the team to raise itself to a position of non-laughability, and the fact that it doesn't feature an Indian driver, which basically means Mallya's just trying to cash-in on Indian involvement with the sport.
Okay, fellas, listen up and here's the deal: Mallya knows both these things; he's far too sharp not to.
Sure, it's true that Force India are minnows on the Formula One circuit, and should only dream of scoring a few points this season. Three points this season, for example, is my optimistic prediction, which would be fantastic. Mallya himself has said his aim is for a podium finish two years later, by the time the Indian Grand Prix rolls around in 2010.
It's insanely ambitious, considering the teams at the front right now, but hey. Dream big, man. And what is wrong with being the small fish, if the pond is this massive? We have an Indian team out there, an Indian team. This is mega news, and we should all be proud instead of expecting it to beat the McLarens already. Heh. Okay, that too.
Secondly, the bizarrely jingoistic thought that Mallya should only hire Indian drivers. This smacks of a hideous double standard; are we to now think that Ferrari should only hire Italian drivers and McLaren British ones? Should Finland buy itself a team to ensure guys like Kimi Raikkonen find a place? And does this mean that an Indian driver just isn't good enough to be hired by any other team?
Having said that, I'm confident that Mallya would love to give a young Indian racer a chance, if and when he's ready.
Right now, he has quelled all on Karun Chandhok by saying the youngster's just hitting GP2 bloom and another season there would see him much closer to F1 level. This is realistic, level-headed logic, as opposed to armchair nationalists who believe Mallya should hire Narain Karthikeyan. I have nothing against Narain, but he didn't perform impressively at all in his only Formula One year, and when Mallya can build the kind of roster that he has now carved, he'd be silly to throw it all away for some random desi prerogative.
Giancarlo Fisichella is a dogged, never-say-die racer, fast approaching veteran status, while Adrian Sutil boasts of the kind of mercurial talent leading to lots of comparisons to his buddy Lewis Hamilton, even though he hasn't had much of a chance to show it off yet, this year -- not so far, anyway.
The McLaren-Mercedes eventually muscled past Fisichella, using the slipstream of the Force India car to catapult itself across, on the start-finish straight. And then came the pitstops, after which Giancarlo ensured he stayed ahead to the end. The final standings showed a Force India at 12 and a McLaren at 13.
Bravo Giancarlo, bravo Mallya, bravo Force India.
Felipe Massa and Ferrari won the race – and deservedly so – but we were clapping for India. And it felt incredible.