Home > Sports > Message Board


July 30, 2003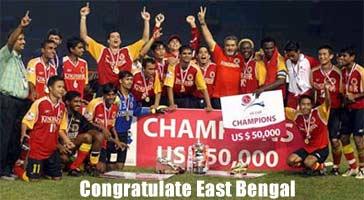 By defeating BEC Tero Sasano of Thailand 3-1, in Jakarta, Indonesia, on Saturday, July 26, Kolkata's East Bengal won the ASEAN Club Cup and became the first Indian club to win any Asian level football tournament.
The Indian club champions returned home on Tuesday night to a rousing welcome. Ecstatic scenes were witnessed at the N S C Bose International airport in Kolkata as over 10,000 fans celebrated the triumph.
You too can say 'Well done, East Bengal' by posting your congratulatory message below:


What do you think about the story?








Read what others have to say:





Number of User Comments: 14








Sub: Simply Superb !

THREE CHEERS FOR EAST BENGAL ! Well done. Last year we won 5 trophies. This year we started with ASEAN CUP...lot more to come !!!! ...


Posted by Kingshuk Sen









Sub: Congratulations East Bengal

A very hearty congratulations to East Bengal for their stupendous success..


Posted by Abhijeet Shekhar









Sub: congratulation

i am a die hard east bengal fan, although i stay in mumbai for the last 4yrs but still my love for east bengal will ...


Posted by aniruddha bose









Sub: FOOTBALL IN INDIA HAS WON !!!THANKS EAST BENGAL

Dear Friends, This is indeed a very GOOD NEWS for INDIAN football which has for long been in wilderness after the triumphant Olympics team of ...


Posted by RAJIV JOSHI









Sub: Congrats

Dear Players, This win shows that we Indians can do it if we believe in ourselves. Keep it up. Best wishes for the future! A. ...


Posted by A. Anand






Disclaimer