Amrita Raichand and her family were rescued from the Taj Mahal hotel while it was under attack.
Recounting her experience to Rediff.com's A Ganesh Nadar, she feels Kasab's execution is a beginning in the fight against terror.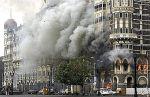 Amrita Raichand, a well-known model, was the face of the Whirlpool brand for six years.
When she decided to celebrate her birthday at the Taj Mahal hotel in Mumbai on November 26, 2008, she never imagined her life would take such a dramatic turn:
My in-laws, husband and I were at Wasabi, the Japanese restaurant at the hotel, and were joined by a family friend who was staying at the Taj. Our table wasn't ready, so our friend suggested we go up to his room and wait.
We were having appetisers in his room when the firing began. Thank god, we did not wait at the Harbour Bar as we had planned earlier.
Uncle (the family friend) was staying in the Heritage Suite, which is just above Wasabi. We first thought it was fire crackers. Uncle joked how they were bursting crackers to celebrate my birthday.
A little later, he got a call from his driver, saying there was a gang war on outside, asking him to be careful. We called the hotel reception and they said there was a shootout, but they did not know who exactly was involved.
The dining room in the suite overlooked the porch. We saw dead bodies being carried out of the hotel. We still thought it was a gang war. But when we heard a loud explosion, we knew it was more than a gang war.
My brother telephoned to ask where we were. I told him we were at the Taj, to which he replied, 'Thank God you are not at the Oberoi; it has been attacked.' I told him that there was a shootout at the Taj too.
My husband by then had figured that it was a terror attack. My mother-in-law started reciting her prayers. I was thinking of my one-year-old son who was at home.
The chandeliers started breaking and the windows shattered. The broken glass made it difficult to see what was happening outside. For some reason, the glass on one window did not break. At that time we did not realise it, but that was our window to safety.
We switched off the lights and spoke softly. We were scared that someone could be outside our door. The firing continued and we could hear explosions. It was really scary.
My brothers were on the phone with us continuously and we whispered through the night. No one slept. My brothers wanted to come for me, but I told them it was impossible. We wanted to run, but they asked us to wait till the time was right.
I thought one by one they were destroying each floor. We were scared to put on the lights, so we waited in the dark.
At 7 am the next morning my brothers said we should attract the attention of the fire brigade personnel outside the hotel, without alerting the terrorists. We started switching on and off the light in the room. We had that one window which had not been shattered.
We opened it and started waving towels. The fire brigade personnel responded almost immediately.
They put up a ladder and brought us down one by one. My father-in-law is 70 plus, but he is an ex-navy man and is fit. He climbed down himself. My mother-in-law had to be helped.
Then Uncle went down and I followed. My husband came down last. Uncle went straight to the airport and left for New Delhi because he thought the situation would get worse. We did not go to any hospital; we went straight home.
I still go to the Taj. Each time I enter, I always pause for a moment as images of that dreadful day flash before my eyes.
I have learnt to put it behind me and move on; we cannot live in fear.
Now that Kasab has been hanged I feel we have achieved some closure. I know he is small fry and the real culprits are still roaming free. But it is a good beginning. We have hanged him and can now go after the others.
Whenever our government or the police do good work we should applaud them, not criticise them all the time.
We should become a more positive nation. There is lots of work to be done and we can do better with a positive attitude.