The police announced days into the investigation that they were not suspecting anyone from outside for the deaths of Soumya Tummala Reddy and her cousin Vikram Kumar Tummala. Arthur J Pais reports.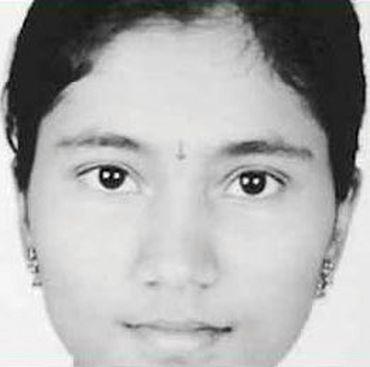 Amid speculations that Andhra Pradesh students in America were targeted for robbery and murders, came the news of Soumya Tummala Reddy, a 22-year-old electrical engineering student at Southern Illinois University in Edwardsville, who was shot to death near a lake close to Chicago in September 2008.
'Her murder marks the fourth mysterious death of young people from Andhra Pradesh in the United States in the last year,' an Indian publication wrote in 2008.
Bigger headlines were to come soon just as some newspapers suggested that a tall, black man had been following her. Her murder, which had followed the murder of two graduate students at Louisiana State University in December 2007, and another in Pennsylvania in March 2008, brought grief and outrage.
But the speculations changed when the body of Soumya's cousin Vikram Kumar Tummala, 27, was found in a lake 30 miles from her campus. The police soon found that the car in which Soumya's body was found was licensed to Vikram, who did not have a steady job. The two had been living at separate addresses in Maryville, Illinois.
With hardly any exception, the police in America have been able to track down the murder suspects of foreign graduate students within a month of investigation. But in the Reddy and Tummala case, there were no arrests. There was not even any person or persons of 'interest' for the police. Several Indian students in and around Chicago had wondered if the police were not taking the case seriously because the victims were not Americans.
The police announced days into the investigation that they were not suspecting anyone in the out for the deaths. St Louis County Police Officer Rick Eckhard said, 'Detectives from the St Louis County Police Department have narrowed the scope of the investigation to the discovery of these two individuals and believe that this incident involves them alone.'
The medical examiner determined that Tummula died from a single gunshot wound to his mouth.
Photograph: Soumya Tummala Reddy