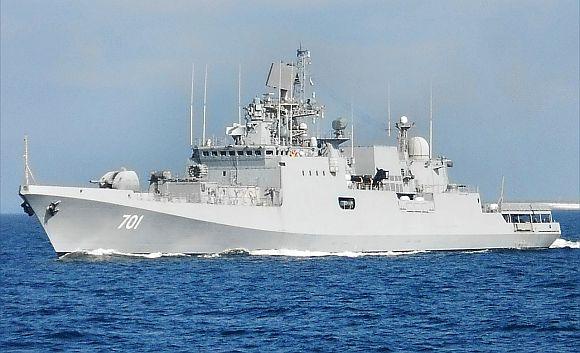 INS Teg, which has been inducted into the Indian Navy, incorporates innovative stealth technologies to reduce her radar cross-section, infrared and magnetic signatures, as well as radiated underwater noise, reports RS Chauhan
INS Teg, first of the three stealth frigates ordered from Russia in 2006, has finally joined the Indian Navy, giving it much-needed muscle.
This is in keeping with the promise made by Navy chief, Admiral Nirmal Verma, in December 2011 that Indian Navy would induct at least five ships a year over the next five years. 


Adm Verma, speaking at the annual press meet had said, "The induction programme is continuing apace and over the next five years we expect to induct ships/submarines at an average rate of five ships per year provided the yards deliver as per contracted timelines. This year we have concluded eight important contracts which include contracts for four destroyers, five offshore patrol vessels, two cadet training ships, eight landing craft utility and fast interceptor craft for coastal security duties. We are also looking forward to soon concluding contracts for mine counter measure vessels and P 17A frigates." 
He had then added: "Among the major projects under construction in Indian shipyards are three ships of Kolkata Class (P-15A), four P-15B ships, which are an advanced version of the Kolkata Class, and six P 75 submarines -- all at Mazagaon Dock Limited, Mumbai."
"Four anti-surface warfare corvettes are being built at Garden Reach Ship-builders, Kolkata. In addition, nine naval offshore patrol vessels are under construction at Goa Shipyard Limited and a private shipyard. The construction of the indigenous aircraft carrier is also progressing. We expect to induct one Shivalik class frigate – Sahyadri -- one offshore patrol vessel, one Kolkata class destroyer, one P-28 ASW corvette, three catamaran hull survey vessels and twenty five fast interceptor craft over the next one year. Among the overseas projects, the refurbishment of Vikramaditya is progressing on track and the ship is expected to be delivered in December 2012. The three follow-on ships of Talwar class (Teg is first of the three), under construction at Russia, are likely to be delivered in the time frame 2012-13," Adm Verma had said. 
Commissioned at an impressive ceremony at the Yantar shipyard in Kaliningrad, Russian Federation, by Vice Admiral KN Sushil, flag officer commanding-in-chief, Southern Naval Command, Teg is likely to reach Indian shores by end-June 2012.  
The other two ships of Teg class, Tarkash and Trikand, are likely to be delivered by September 2012 and mid-2013 respectively. 
Their predecessors, INS Talwar, Tabar and Trishul have been in the Indian Navy's service since 2003-04. 

According to a Navy press note, INS Teg is a modern and contemporary warship with advanced technologies incorporated in every facet of design to make her stable, stealthy, fast and formidable.
The 'Teg' class of ships, an advanced version of the 'Talwar' class guided missile frigates, already in service with the Indian Navy, have been built to meet the specific command and control needs of the Indian Navy for coordinated surface, air and underwater missions. 
The weapons suite of the 125-metre, 4000-tonne frigate includes the Brahmos surface-to-surface missile system, a surface-to-air missile system, 100 mm medium range gun, close-in weapon system, torpedo tubes and anti-submarine rockets. With its advanced weapons suite and sensors fully integrated with its combat management system, the ship is equipped to augment the Indian Navy's net centric capability, and is well suited to undertake a broad spectrum of maritime missions. The ship also embarks and operates an anti-submarine or an airborne early warning helicopter -- a dominant force multiplier. 
Teg incorporates innovative stealth technologies to reduce her radar cross-section, infrared and magnetic signatures, as well as radiated underwater noise. 
The ship is powered by an advanced gas turbine propulsion plant with state of the art controls, to attain speeds in excess of 30 knots. The ship has been equipped with complex automated systems for nuclear, biological and chemical defence, damage control and fire-fighting that can be operated centrally from sheltered posts to minimise casualties and achieve rapid restoration of combat effectiveness. 
The ship's crest embodies two crossed swords against the blue sky and ocean waves which symbolise strength, responsibility and commitment to a righteous cause. 

Commanded by Captain Rakesh Kumar Dahiya, a 'communications and electronic warfare' specialist, Teg is manned by a crew of about 250 including around 25 officers. It is interesting to note that crew members speak 15 different languages and follow six different religious faiths -- a true microcosm of the diversity and unity of India. 

The ship's motto, 'Towards eternal glory', truly reflects the indomitable spirit of the ship and her crew, the will to fight for what is honest and truthful, and to surmount the most challenging odds in pursuit of victory.