Nervousness, fear and trepidation -- these were some of the feelings that went through the minds of 25 women who walked into the National Institute of Fashion Technology, Chennai, on September 20.
No, they weren't young girls on their way to a difficult lecture. They were women who had lost everything to the sea when the tsunami struck the shores of Chennai.
"All the girls we saw were dressed well. They were from the upper classes. I couldn't even raise my head to look at them," says 19-year-old Vrinda Devi, thinking about when she first stepped into the Institute.
It was no different for Porselvi. "An inferiority complex was natural. I had stepped into a college for the first time in my life. But nobody, not a single student, acted as if she were superior."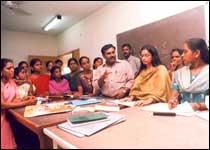 Vrinda and Porselvi now want to be like the girls they saw. They want to speak English, stitch dresses and earn money. And, chances are, they will. Thanks to a man called Ranjit Shah, these 25 women are at NIFT studying fashion technology and designing.
Shah, President, Apparel Handloom Exporters Association, has been exporting garments for 30 years. After news of the tsunami spread across the world, he received many offers of help from customers and contacts.
"We decided to help victims in a specific fashion, not just by giving them money and clothes," he says. "They are not poor, neither are they beggars. This is how we came up with the idea of training these women in tailoring, designing, fashion, manufacturing and a bit of marketing. We assumed that having one entrepreneur in a family could help the rest come up. We contacted NIFT and told them we would bear the entire cost of training."
Although the vision statement of NIFT has a line about social commitment, Associate Professor Russel Timothy says they hadn't been doing anything about it. "The impression everybody has of NIFT is that it is unreachable, and caters only to a section of society. We want to dispel that image."
On Shah's request, Dr P Manorama, President, CHES, an NGO and D Bharath, Executive Director, Bhoomika Trust, assembled women whose families were affected and who had a desire to learn. They were interviewed by Russel Timothy and 25 were selected.
Surprisingly, while the minimum qualification he stipulated was a Standard 10 certificate, he found graduates and postgraduates too!
As the hostels were occupied by their own students, NIFT decided to pick only women from Chennai. While designing a six-month full-time course, what the institute kept in mind was what they would ultimately be: entrepreneurs.
In addition to the main content, the course material includes development of communication skills and entrepreneurship.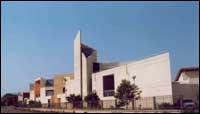 Classes are held for three hours a day, five days a week. Also, as against its course fee of Rs 5,000 per month for short-term courses, NIFT reduced its fee to Rs 3,000 per student per month. The bill has been picked up by Ranjit Shah.
Sreemathi Gupta, visiting faculty at NIFT, has this to say about her students: "I find them all very excited about learning, but we have learnt to handle them differently from regular students. I don't say it is difficult, but it is challenging. If I can bring out the entrepreneurs in at least a few of them, I will call myself successful. I started by explaining to them what fashion, style, etc were, and am surprised at the speed at which they are picking up things."
The sole breadwinner of a fishing family, 28-year-old Rajalakshmi lost all her belongings to the tsunami. Though she has always been interested in stitching, she didn't know how to design dresses. "When this opportunity came," she says, "I grabbed it. I have never been to a college before. At this age, I am enjoying every minute I spend here."
Helen Glory, 42, a postgraduate in history, works as a caretaker in an orphanage. Her husband, who worked as a helper on fishing boats, lost his job to the tsunami. Now, the large joint family is under her care, but she never misses any free classes anywhere.
"I look at studying at NIFT as an opportunity of a lifetime. There was absolutely no chance for people like me to learn about fashion." She has already chalked out plans for the future. "I want to start a fashion unit and create good designs for the orphans I take care of."
Vrinda Devi has only studied up to Standard 10, but dreams of the day her own tailoring unit will start functioning. "I want to create my own designs and sell them," she says. "I am sure I can do it." Porselvi, who had done a tailoring diploma earlier, has been stitching churidar kameez sets for people in her neighbourhood. After the 6-month course at NIFT, she is sure she will be able to create unique designs, lure more customers and get better prices. What she intends to do is buy 3 to 5 sewing machines and start a big tailoring unit.
As for Ranjit Shah, what he wants to do after the course is over is help the women form groups of 3 or 4 and set up their own units. "We will go to the government and other agencies to get orders for them," he says.
The Tamil Nadu government has promised to set up a shed in their area, with a few sewing machines, so the woman can start a self-help group and begin work. The Minister of Textiles has also promised them big orders, like uniforms for a corporation school or hospital.
Shah echoes the sentiments of all who have been associated with this unique project: "If we can create at least five competent entrepreneurs from the group, we will be happy. And we have reasons to believe they will be successful."
Photographs: Sreeram Selvaraj