At 2.20 pm on April 12, Narayana Nethralaya Medical Director Dr K Bhujang Shetty got a call from actor Ragvendra Rajkumar - the second son of the legendary Kannada actor.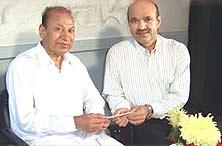 He was told what the world would get to know in a couple of minutes - that Dr Rajkumar had passed away suddenly.
As per his wishes, the family wanted Dr Shetty to remove the thespian's eyes, which he had pledged to donate to the Dr Rajkumar Eye Bank, run by Narayana Nethralaya.
'He brought Kannadigas together'
Dr Shetty rushed with his team to the actor's home. By 3 pm, the actor's corneas were removed. There was no scarring, no visible signs on the actor's body. The news of the actor's demise was slowly trickling out and the crowds began building outside the home. Dr Shetty was just about able to make it out before the mob became unruly.
As Dr Shetty tells it, it was in 1994 that he met Dr Rajkumar. He says he requested the actor to lend his name to the charitable eye bank that his hospital wanted to start. The actor willingly agreed not only to lend his name to the eye bank but also promised to help promote it.
"Dr Rajkumar believed that sight is precious and there is no point burying/burning healthy eyes that can be used to help someone else," Dr Shetty says. At the inauguration of the eye bank, Dr Rajkumar pledged to donate his eyes. On the afternoon of April 12, that promise was fulfilled by his family.

"The family was traumatised and grieving at the sudden death. But they remembered his promise and called me. If they would have delayed that call, I would not have been able to get the eyes out in time, though there is a six-hour window to get the eyes after death," Dr Shetty says.
He rushed back to his hospital even as Bangalore was being convulsed in wanton and senseless violence.

"The hospital has a long waiting list of patients wanting for eye transplants. At the top of the list was a 15-year-old boy with Keratoconus - a corneal disorder that meant that he would go completely blind soon without a transplant and a 55-year-old man with corneal damage," Dr Shetty says.

The actor's eyes were in excellent condition. As per the norms of eye transplants, the patients were not informed whose eyes they were getting. Neither is the donor's family informed of the recipients' identity. Both were operated on April 13. Their operations went off well and have already been discharged. They should be able to see soon.
Dr Shetty says that the actor was extremely supportive of their venture. He says that Rajkumar made it a point to mention eye donation in most of his public announcements. Each mention would see a spurt in the number of donations. He adds that the actor was amazed when told that there were 3 million people waiting for transplants in India.
There are only about 9,000 donations annually. So the waiting list for donors is very long. Many patients go blind as a result of not getting transplants on time. He is a crusader for eye donations. His father Sanjeev Shetty too donated his eyes. His picture occupies prime space in Dr Shetty's well-appointed office at his hospital. The caption says 'His eyes are still alive'.
Readers Say: 'Rajkumar had a positive influence'
The doctor says he has no idea of the identity of the people who received his dad's eyes. There is also a reel-to-real life coincidence to the entire episode. Almost 50 years ago, Rajkumar made his debut in a film titled Bedara Kannappa. In the movie, he plays the role of a hunter - who in the climax plucks out his eyes to replace the bleeding eyes of Lord Shiva.

They may not know it - but two people in Bangalore will see very soon. They will be seeing with the eyes of a Kannada legend.
Pay your respects to Dr Rajkumar

Image courtesy: Narayana Nethralaya