'Modi as PM will be bonanza for jihadis'
Aziz Haniffa
in Washington DC
Asked if Narendra Modi as prime minister or for that matter the advent of a BJP government would lead to a different approach in dealing with the jihadi threat in India, Stephen Tankel, one of America's leading experts on terrorism in South Asia felt it is "highly unlikely because of the lack of coordination between intelligence agencies and inter-state police cooperation, as states zealously guarded their authority and prerogatives".'
Rediff.com's Aziz Haniffa reports from Washington, DC.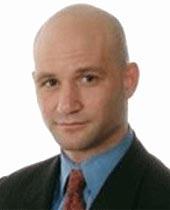 A week before he is slated to join the Obama administration as a policy analyst in the Pentagon's South Asia bureau, which would constrain him from speaking on the record, Stephen Tankel, left, fast emerging as the foremost terrorism expert on South Asia, says it is a no-brainer that if Gujarat Chief Minister Narendra Modi is elected India's next prime minister, it would be a recruitment bonanza for Indian jihadi groups.
During an interaction that followed the launch of his study 'Jihadist Violence: The Indian Threat' Tankel said, in the event Modi was elected prime minister, 'Do I think that those who are trying to recruit would make the most of it? Absolutely.'
Whether they would have any success in exponential growth, vis-a-vis recruitment, he was not so sure.
Tankel, currently an assistant professor at the American University and a non-resident scholar at the Carnegie Endowment for International Peace, said, 'Sure, they might have some success. But I don't necessarily know that his election on its own would certainly drive hundreds of people to become militants.'
Kindly click NEXT to read more...
Image:
Demonstrators at a protest against Narendra Modi outside a New Delhi college.
Photographs:
Reuters
'Modi as PM will be bonanza for jihadis'
Tankel, author of the seminal book on the Lashkar-e-Tayiba, Storming the World Stage: The Story of Lashkar-e-Taiba, explained, 'It's important to understand that going off and joining the mujahideen, unlike in Pakistan was not something that endeared them and earned them any respect and regard either with their families or communities in India.'
'These are people, who in many of their communities have brought shame to their families -- some of their families have disowned them as they are living an outlaw life. In a way that if you go and join other militant groups in that region is not necessarily you can walk tall like if you are a member of the Laskkar-e-Tayiba or Jamat-ud-Dawah in some areas. Same with the Tehrik-e-Taliban even though it is an anti-State organisation in Pakistan. Not so for the Indian Mujahideen.'
Tankel pointed out how during his research there was this one guy who was arrested and asked why he joined the IM. 'He said he wanted to see himself in India's most wanted. (But) Most of the guys don't want to see themselves on India's most wanted. So, the barriers to entry are high.'
Kindly click NEXT to read more...
Image:
Suspected Indian Mujahideen operatives in custody.
'Modi as PM will be bonanza for jihadis'
Asked if Narendra Modi as prime minister or for that matter the advent of a Bharatiya Janata Party government would lead to a different approach in dealing with the jihadi threat in India, Tankel said it is 'highly unlikely because of the lack of coordination between intelligence agencies and inter-state police cooperation, as states zealously guarded their authority and prerogatives.'
'There is very little intelligence coordination between the different (state) police and also among the different intelligence bureaus,' he said. 'You don't get great coordination between the IB (Intelligence Bureau) and R&AW (Research and Analysis Wing). The Delhi police and the Maharashtra anti-terrorism squad based in Mumbai don't get along. So, there is poor coordination.'
Several reforms to put into place institutions like the national anti-terrorism task councils had run into major obstacles, Tankel said,because 'the state governments don't want to cede to the central government that kind of authority -- that kind of power.'
Consequently, he argued, 'I don't really know if that is going to change under a Modi government. That seems to be a trend we are seeing in India, which is a regional dispersion on power -- the rise of regional parties. If that is the case, then overcoming some of those political institutional obstacles will remain.'
Image:
An anti-terrorism rally in Delhi.
Photographs:
Danish Siddiqui/Reuters