Discussing in detail the security risk BJP's prime ministerial candidate Narendra Modi faces, a senior Intelligence Bureau officer tells Sheela Bhatt that Modi's security cover will improve manifold following the Patna serial blasts.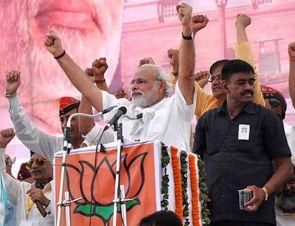 Under the law Gujarat Chief Minister Narendra Modi cannot get Special Protection Group cover in spite of facing the highest level of security risk, said a senior officer of the Intelligence Bureau.
The officer said that Modi's security category, in terms of protocol, is low but the SPG was created to protect only the prime minister and former prime ministers, and their family.
Modi already has Z-plus security cover provided by the National Security Guard but needs enhanced security, said the officer.
The Bharatiya Janata Party's prime ministerial candidate's security cover has hit headlines ever since the Patna serial blasts targeted his rally.
The IB officer said that Prime Minister Manmohan Singh has the best security cover, devised following set parameters and drills. The PM faces high security risk and the system is perfected in his case.
While the threat to Dr Singh at a personal level is very low, it is the opposite in the case of Modi. The BJP's prime ministerial candidate faces high level threat but at most times is guarded by only 6 or 8 NSG personnel, the IB officer said.
But Modi's security will be enhanced when he visits Bihar on Friday and Saturday to meet the families of the Patna blasts victims.
The senior IB officer told rediff.com that Modi's visit to Bihar on November 1 and 2 will be safe, mainly for three reasons.
The Hunkar rally was announced about six months in advance, which gave the terror group time to plan and execute. The Bihar police have received a lot of flak, so now they will be more alert. With the arrest of the accused Akhtar and others, the Indian Mujahideen and ISI module members are on the run. When terrorists are defensive they can't plan an attack on a large scale as they did in Patna, the officer said.
The IB officer dismissed reports that people were not frisked at Gandhi maidan and that the Bihar police did not have enough check posts at the Patna rally. He said it is impossible to check more than two lakh people even if 10 deputy superintendents of police are deputed on the ground.
"It takes at least 15 seconds to frisk one person. It would take more than ten hours to check everybody. One has to use only psychological pressure and common sense to sort out doubtful characters. People with luggage and suspicious behaviour must be checked," he said.
While discussing the Gandhi maidan bomb blasts that occurred before Modi's Hunkar rally, the senior police officer who has extensive experience in operation and intelligence said, the Bihar police do not need an IB alert because "everyone is aware that Modi is target number one."
He says it is common sense that IB never gives specific time, place and details of a terrorist module's plan of attack because if they knew that the IB will obviously nab them before the attack.
"Our biggest worry is that whenever terrorist attacks kill innocent people -- as it happened in Bihar where six people have died -- it guarantees lakhs of rupees of funding from abroad," he said.
He says in all kinds of terrorism, money is an important component, more so in India.
"Riyaz Bhatkal (founder leader of the Indian Mujahideen) is radicalised and he may still be involved in anti-national activities for ideological reasons. But Pakistan's ISI sponsored modules are solely dependent on success rate. If they are not able to kill people the funding dries up," the officer said.
"Many poor boys, who are part of such terror modules, can't sustain themselves only on ideology. In that sense the Patna rally was, if not huge, surely a substantial success for terrorists and will bring in funds," he added.
"Tehseen Akhtar, the Indian Mujahideen member and the man allegedly behind the Patna blasts joined the terror group because people like him feel their community is being denied justice. They are brainwashed to believe they will not get justice. Once they join the module or a group they are always on the run, particularly when they are marked by intelligence agencies. That needs big money," the IB officer said.
Once they become a target of the Indian security forces, the ideology of these foot soldiers disappear. At that time it's all about day to day funding, maintaining secrecy, creating fake covers and travel logistics. The idea of "fight for justice" changes its tone.
"After the Patna rally blasts Modi's security will improve manifold," the IB officer said.